by Cindy Abole
Public Relations

To look at them, MUSC students Carol Brown, Meg Croom and Wenjun He appear as typical students. In reality, the trio is the epitome of today's modern women leaders gracing MUSC's campus.

Characterized as enterprising, organized, energetic doers and achievers, all three have accomplished things as part of a group and independently following their own paths.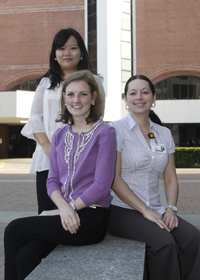 Students Carol Brown, right, Meg Croom, center, and Wenjun He are honored as part of Women's History Month.

Brown and Croom, fourth-year students in the South Carolina College of Pharmacy, have been involved with MUSC Student Government Association (SGA) leadership and activities. He, originally from Luoyang, China (Henan Province), is a doctoral student in the Clemson University and MUSC Joint Bioengineering Program housed in the College of Graduate Studies. She previously served as an International Student Association (ISA) representative with SGA and ISA's immediate past president.

When the time came for Brown, who is current SGA president, to set the group's agenda for the 2011-2012 academic year, her decision was clear: Move forward in approving MUSC as a tobacco-free campus.

The idea and proposal had been a priority for Brown's predecessors, SGA presidents Sheldon Bates and Tyler Pierce. Bates prepared and distributed petitions signed by students and communicated students' concern for a tobacco-free campus with leadership.

"I'm just glad to have been part of that initial planning with fellow students, faculty and others who shared the same vision for students in fostering healthy behaviors and creating a healthy environment for all. This proposal was student-driven from the beginning," Brown said.

Brown formerly presented the proposal to members of MUSC's board of trustees at the group's Aug. 12 meeting. After much discussion and debate, the board approved and passed a resolution in its support.

Willette Burnham, Ph.D., director of Student Diversity, works with students through SGA and other student activities, applauded Brown, SGA representatives and the MUSC study body in this achievement.

"This was the first example that I've seen where SGA served as a resounding voice for the students. It was truly uniting and passionate in the student's cause for establishing a smoke-free campus."

Keeping students informed about the smoking ban and other news while establishing a network for good communications was the job of pharmacy student Meg Croom, who is SGA secretary.

Described as organized, conscientious and a multi-tasker, Croom assisted the Office of Student Programs in managing student communications. She also helped coordinate the campus' annual MUSC Clarion Interprofessional Case Competition and led other projects.

According to Burnham, Brown and Croom are the embodiment of ideal students and medical professionals.

"Both Carol and Meg have led and been proactively involved with SGA and numerous student chapters of national pharmacy organizations. Additionally, these ladies have participated in extracurricular and philanthropic activities on MUSC's campus and within the Lowcountry community. They have made a significant impact across campus in a short time."

He's presence on MUSC's campus the last four years has been exhilarating for her and the several dozen international students at MUSC.

An engineer and technical specialist, He moved to Charleston in August 2008 and works in the lab of Hai Yao, Ph.D., assistant professor of craniofacial biology in the James B. Edwards College of Dental Medicine and the Clemson-MUSC Bioengineering Program.

Upon her arrival, He was inspired to be an active and engaging presence with campuswide activities and channeled that through MUSC's ISA and SGA. A newlywed (she married Pengfei Li, an exchange student who previously worked in the Department of Neurosciences/Neuroscience Research), He worked closely with ISA's director and friend, Rebeca Mueller. He has done everything from inspiring international student involvement through new programs and activities to teaching others about the Chinese culture and heritage through the Chinese Students and Scholars Association in various campuswide activities.

"Wenjun is a welcoming, enthusiastic presence on campus. Within a short time, she has accomplished a lot through her leadership, attitude and dedication to helping our international student community feel connected to the institution and the larger Charleston community," Mueller said.

Burnham can best summarize the accomplishments and potential of all three women in her own words.

"All three ladies epitomize today's women student-leaders. They're compassionate women in leadership and brilliant on their own. They leave MUSC's campus in a stronger, better light than how they found it. It's a pleasure to celebrate them and other campus women as part of Women's History Month."
Editor's Note: The article is part of a series featuring MUSC's National Women's History Month. The 2012 theme is "Women's Education — Women's Empowerment."