by Jack Thomas, PT, Ed.D.
College of Health Professions

Benjamin F. Lawson, DDS, professor emeritus of oral and maxillofacial surgery and founding dean emeritus of the College of Health Professions (CHP), passed away Feb. 15.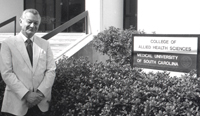 Dr. Benjamin Lawson was the first dean of the College of Health Professions, previously the College of Allied Health Sciences. Lawson passed away Feb. 15.

Lawson was born in rural Montgomery County, Ala., in 1931. He received his Bachelor of Science degree in pharmacy from Auburn University in 1953, and then trained as a pilot in the United States Air Force, serving as a first lieutenant and squadron commander with the 406th Fighter-Bomber Wing in England. Following his discharge from the Air Force, Lawson attended Emory University in Atlanta and received his Doctor of Dental Surgery degree in 1961. He then enrolled at Indiana University in Indianapolis, specializing in oral diagnosis and medicine. He was also given a certificate for training in periodontology by the University of Alabama at Birmingham in 1968.

Before coming to MUSC, Lawson served on the faculties at Emory University and the University of Alabama at Birmingham. During these years, he reorganized the Department of Oral Diagnosis at Emory and assisted with undergraduate teaching at the University of Alabama at Birmingham. He joined the faculty at MUSC July 1, 1968, as an associate professor of oral and maxillofacial surgery, where he organized the Department of Oral Medicine and assumed both administrative and academic responsibilities for periodontology–a professional discipline that in most institutions at the time had several faculty members serving under the direction of a chairman.

Also under Lawson's direction were all services and activities having to do with dental radiography, which again was unusual, as most dental schools were structured in such a way as to have radiography as a separate department. In a letter to Dr. James W. Colbert Jr. commending Lawson's exemplary work at MUSC, School of Dentistry Dean John E. Buhler noted that Lawson was carrying out the responsibilities of not just one, but what were commonly three departments in typical dentistry schools.

In 1970, Lawson was promoted to full professor of oral and maxillofacial surgery, a position and rank he held until his retirement in 1990. In 1972, however, he was given the opportunity of becoming the founding dean of the newly created College of Allied Health Sciences (presently the College of Health Professions). He relished the prospects of having a chance to build an educational body from the ground up and led the college in developing a diverse number of health professions programs. During his time as CHP dean, Lawson also served as a consultant to the S.C. Commission on Higher Education. In his capacity as a consultant, he was instrumental in laying the framework throughout South Carolina for satellite educational programs for students in various disciplines of the health sciences.

When Lawson retired as dean, he had helped CHP achieve the distinction of having the highest student enrollment of any of the colleges at MUSC, and programs such as physical therapy and occupational therapy were being noticed and recognized by national publications. The deans who came after him have capitalized on the base that he built, encouraging growth of the various clinical and health care administrative programs, along with the completion of the CHP complex on Rutledge Avenue in 2005 and the addition of the Center for Rehabilitation Research in Neurological Conditions at the original CHP building at the corner of President and Bee streets.

Lawson was an avid walker and during his time at MUSC routinely walked to and from work each day from his home in West Ashley. Lawson was also known for his fondness for animals, especially his dog and walking companion, Henry. In his youth, he worked for the welfare of animals, and often repaired and treated broken bones of birds that were presented to him by others.

Lawson will be missed by all that knew him, and especially his wife, Joy Marsh Lawson and sons Benjamin, David, and Mark. Other relatives include a granddaughter, sisters and a stepson.

Two senior faculty members who worked with Lawson during his deanship had these perspectives to offer:
"Dr. Lawson recruited me from the Medical College of Georgia in 1984 to chair the Department of Occupational Therapy as he was keen to build a strong faculty and program. He offered me opportunities for leadership within the college and across the university. His interest in rehabilitation was strong and he was always looking for ways to innovate. He supported the development of post–professional programs in our fields and was very interested in the prospects for career laddering. He was proud of faculty and student success and encouraged professional growth and development. Working with him as dean, I learned a great deal that has stood me in good stead these many years since. As founding dean, Dr. Lawson developed a college that has stood the test of time, grown with the times, and over time has always been responsive to the health needs of the citizens of South Carolina and beyond."
—Maralynne D. Mitcham, Ph.D., professor and chair, Department of Health Professions
"His vision and leadership guided the growth and development of the College of Health Professions, laying the groundwork for the success it now enjoys. He gave me my first leadership opportunity at MUSC and guided my early career with wisdom, high expectations, and a warm heart. He was larger than life in many ways and made an enormous contribution to MUSC."
—Valerie T. West, Ed.D., professor emeritus and former associate provost for education and student life