by Hollen Dodds
Public Relations

March is National Social Work Month, a time to celebrate the more than 600,000 social workers throughout the nation.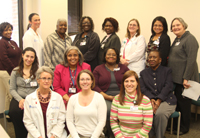 Social workers at MUSC include Mary Catherine Dubois, Kelly Finke, Polly McCann, Crysta Schaff, Patricia Roberts, Sarah Bishop, Neomi Brown, Kesha Graham, Eanna Aaron, Sherrell Nelson, Rena Bligen, Joyce Rivers-Miller, Peggy Willis, Tiombe Plair, Elena Bell, Cinnamon Kera, Mary Elizabeth Gunter, Mela Khedouri, Erin Courtney and Jessica Metz.

Social workers help people in all stages of life, from children to the elderly, and provide assistance to families dealing with multiple issues. Social workers are in schools, courtrooms, drug clinics, hospitals, senior centers, shelters, nursing homes and other areas.

Of the many social workers on MUSC's campus, The Catalyst has highlighted some thoughts of health care social workers in their profession.
Patricia Roberts — Rutledge Tower Adults Clinic (geriatrics)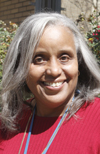 What are some new projects going on in social work at MUSC?
The university internal medicine is doing a weekly multidisciplinary meeting to examine more effective ways of serving our patients. I am excited to be a part of a team that is in keeping with MUSC Excellence.

Elena Bell — Hollings Cancer Center

What is something people probably don't know about social workers?
We each go through extensive training programs based on the age group and type of people we work with. It takes time to develop the skills and proficiency necessary for this field of work.
Kelly Finke — Inpatient Maternity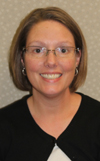 What is your hope for social work in the future?
My hope is that we can continue to provide people with the tools to access community resources for assistance.

Kesha Graham — University Hospital Adult Intensive Care Unit


What is the most difficult part about working in trauma?
You can't prepare for a trauma. I am the first person making the call to a patient's family informing them of a terrible situation, and that's never easy to do.
Mary Catherine Dubois — Ashley River Tower Digestive Disease Center

What do you think people would be surprised to know about your job?
How often I am thanked for my efforts as a social worker. Many people think that our job goes unnoticed, but I feel so appreciated.
Rena Bligen — Continuative Care


Why do you feel people need social work the most after being discharged?
Sometimes people's lives are more difficult at home. Many people don't know where they will be going after discharge. It is my job to follow up with them after they have been discharged and I want to make sure they are being taken care of properly.