The growing use of backscatter X-ray detection systems at airports to identify weapons and concealed objects on travelers and its long-term health effects from radiation continues to be debated.

MUSC radiologist Walter Huda, Ph.D., professor in the Department of Radiology and Radiological Science, examined international research and radiology studies and wrote about it in the February issue of InPractice Insight, a monthly journal published by the American Roentgen Ray Society. Huda found no evidence that full-body scans, which emit small amounts of radiation when used at airports, are unsafe.

Backscatter X-ray imaging technology features body imaging machines that perform full body scans of airline passengers to detect objects such as concealed weapons, explosives, tools, narcotics and other contraband. This technology is a big improvement to metal detectors, which cannot detect explosives or nonmetallic weapons.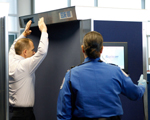 The backscatter X-ray scanner is being used by many U.S. airports by the Transportation Security Administration.

This type of X-ray imaging system uses ionizing radiation instead of high-energy light photons used in standard X-rays. The backscatter system picks up images produced when materials scatter X-ray photons and are better at imaging organic material and therefore have the potential to damage chemical bonds. The effective dose from a single scan from a backscatter X-ray machine delivers about 0.1 micro-Siervert (uSV).

According to Huda, ionizing radiation is accepted as being carcinogenic at high doses, but the existence of radiation risks at doses below 50 to 100 mSV continues to be debated. Reasons for the ongoing debate about radiation risks at low doses point to the lack of convincing evidence and the fact that such risks, if any, are likely to be small, he said.
In 2010, about 60 backscatter X-ray scanners were installed in airports across the country. Today, more than 500 body scanners (backscatter and millimeter-wave) are in use at airports. The Transportation Security Administration plans to roll out additional scanners to airport security checkpoints by 2014.

At European Union airports, backscatter X-ray scanners have been prohibited for use "in order not to risk jeopardizing citizens' health and safety." Instead, EU airports use millimeter-wave scanners that use radio frequency waves versus low levels of ionizing radiation.

To put the radiation doses from airport scanners into perspective, people receive about 1,000 uSV every year from background sources and many also will receive about two to three times this amount from Radon exposure.

Air crew, such as pilots and flight attendants, who spend about 1,000 hours in the air flying at 30,000 feet, also receive an additional annual exposure of about 5,000 uSV. According to Huda, it is evident that the additional radiation dose from an airport X-ray scanner is trivial and irrespective of how often they fly.

Huda believes that these backscatter systems do not pose any hazard to any exposed individuals.

When it comes to radiation risks, organizations such as the National Council on Radiation Protection and Measurements (NCRPM), the National Academy of Sciences in the United States' Biological Effects of Ionizing Radiation committee support that whole body doses of more than 100 mSv may be harmful.

"It clearly makes no sense to attempt to make use of any quantitative radiation risks at doses of the order of 0.0001 mSv, because these doses are six orders of magnitude lower than the carcinogenic risks of radiation exposure that are generally accepted by most of the scientific community." Huda said.

Huda reports that other scientific bodies and organizations regard any radiation concerns from backscatter X-ray machines to be of no practical importance. The NCRPM, the Healthy Physics Society and American College of Radiology have stated that there is no specific evidence that full-body scan are unsafe. The UK Health Protection Agency has written that the dose is extremely low and the European Commission reports that the backscatter X-ray system poses no known health risk.

"Whether backscatter X-ray machines should be introduced to screen passengers is a political decision that will need to be addressed along with other issues including an analysis of costs and benefits as well as considering other alternative technologies," Huda said.

To read the story, visit http://www.arrs.org/Templates/TemplateIP_1col.aspx?id=2167.