Health care experiences and hospitalization can be stressful and overwhelming to children and can lead to feelings of fear, confusion, loss of control, and isolation. If these feelings are not addressed they may have negative effects on children's physical and emotional health as well as inhibit normal development. Children need to be assisted when navigating medical environments to help them effectively cope with their circumstances.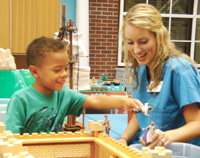 Child life specialist Cory Prescott visits with Matthew Debarros in the Children's Hospital Atrium.

Many children have misconceptions about medical experiences and hospitalization. For example, when a 6-year-old patient came in for surgery he was told that the doctors would make a hole in his body. He asked, "Will they use a shovel?" Another patient thought the video electroencephalogram could read her thoughts.

Children also may come with knowledge of someone else's medical experiences that can lead to misunderstandings and anxiety. For example, a 4-year-old patient came into the hospital, but refused to get off his knees. The medical staff was perplexed and could not understand why he would not stand. Through play, the child expressed that his uncle had gone to the hospital and had his legs amputated and he was protecting himself.

Children who understand and are prepared for medical events demonstrate less fear and anxiety, and tend to more effectively cope with future medical experiences.

Here are a few tips to help clarify children's misunderstandings:

Get down on the child's eye level. Kneel down when speaking with children. This lets them know you are interested in what they have to say and helps build rapport. By getting on their eye level, you demonstrate that the child is important.




Select words carefully. Medical jargon can be difficult for children to understand. Be sure to use clear, concrete language and explain everything in simple, sensory terms. The chart below contains a list of common words or abbreviations that can be confusing or threatening.

Offer choices when possible. Children in hospitals have very little control over their environment and routines. By offering choices, you can promote autonomy, which then encourages coping. For example, "Would you like to take your bath before you eat or after?" Also, it is important to remember not to offer a choice when one is not available. An example of this would be asking, "Do you want to take your medicine now?" You are not actually giving the child a choice in this situation.

Give the child a job to do. This encourages children to become active participants in the medical experience or procedure. For example, "Your job today is to take deep breaths and count to 10."




Advocate for comfort positioning.




Comfort positioning can not only help children be more cooperative during procedures, but can promote family-centered care. Being in an upright position supports a child's sense of control.

Offer praise and encouragement.

Praise and encourage things that the child did well. For example, you could say, "Great job holding your arm still!" This helps a child focus on the positive things.



About Our Staff
Child life specialists are experts in the field of child development with knowledge regarding the needs of children in medical settings. These professionals have earned a bachelor's or master's degree, and have undergone a rigorous certification process including an internship and certification exam.
Child life specialists provide therapeutic play, self-expression activities, developmentally appropriate preparation, coping strategies, and emotional support to promote understanding, reduce anxiety, and encourage cooperation.
MUSC Children's Hospital has 11 child life specialists in all MUSC inpatient units, the operating room, ambulatory surgery, the emergency department, procedural areas and outpatient oncology clinic.

To learn more about MUSC's Child Life Department, visit http://www.musckids.com or call 792-8805.