By Cindy Abole
Public Relations

Studying the use of smokeless tobacco among men, ages 18 to 24, and evaluating their risk for oral cancer at The Citadel were the goals of third-year dental students Laura Tulga and Jennie Odom. What's especially interesting is that these students were comparing research used today from a study conducted a decade ago by fellow students. They were under the guidance of J. Mark Barry, DDS, associate dean for clinical affairs in the College of Dental Medicine.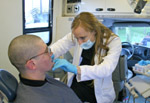 Third-year dental student Laura Tulga inspects for lesions in the mouth of Citadel cadet Henry Mills.

In December, the pair initiated some on-site screenings of smokeless tobacco use among volunteer participants at The Citadel's campus. Using the Dream Center's mobile dental clinic van (the vehicle previously belonged to the college), participants completed a brief survey and oral examination conducted by a member of the study team.
"This project allows us to study and assess the alarmingly high use of smokeless tobacco among Citadel cadets," said Barry.

Cadets who presented with precancerous lesions were advised to refrain or reduce their use of smokeless tobacco products for a six-week period. In January, those individuals were invited to return to the van to be evaluated for any visual changes in their cheeks, gums or mouth. The team compared results from both screenings and with national averages.

"Our goal was to determine if Citadel cadets were still experiencing a higher rate of precancerous lesions than smokeless tobacco users in the general population as they were in 2001," according to Odom.

Results showed that Citadel cadets screened for smokeless tobacco keratosis decreased in the 10 years since the 2001 study from 72.3 percent to 56 percent. This study resulted in a lower incidence of finding precancerous grade lesions in the mouth compared to the 40 to 60 percent national average reported in 2001.

The study caught the attention of cadet Henry Mills who was among a several dozen Citadel students who use smokeless tobacco and consented to participate. As smoking is banned within the Corps of Cadets, Mills and other students choose to use smokeless tobacco to relax and destress. The cadet from Myrtle Beach said he had been dipping for the past five years and admitted that he had considered quitting as part of his New Year's resolution.
Tulga asked participants to complete a consent and questionnaire that asked participants if they were smokers or users of smokeless tobacco, how often they had used these products and if they attempted to quit. During the noninvasive oral exams, she conducted a visual and finger check of participants' mouths looking for suspicious lesions.

Tulga and Odom were looking for some wavy lines and suspicious wrinkles in the cadet-participant's gum line. Research shows that early detection and treatment of a precancerous lesion significantly decreases the likelihood that the lesion will develop into cancer.

If something looked suspicious, both Tulga and Odom presented the patient with some American Cancer Society smokeless tobacco literature and other support materials. For participants identified with precancerous lesions, they were referred to their dentist for treatment.

The study revealed a lower incidence of precancerous lesions than the national average but a higher occurrence of multiple lesions for those who were affected. Results revealed almost no change in the severity of smokeless tobacco keratosis among Citadel cadets in the last decade.

On Feb. 26, the pair joined other dental students who presented their oral health research in the junior category of table clinics of the College of Dental Medicine's Scholar's Day activities.