Bridget Dickey got lucky one year ago, although when she was at MUSC's Chest Pain Center it didn't really feel that way.

The 40-year-old mother of two boys, now ages 1 and 3, felt chest pain a week after delivering her son, and went to an urgent care center to be checked out. After evaluating her, they called EMS, and she was transported to MUSC, where she was diagnosed with postpartum cadiomyopathy. The condition, which reduces the heart's ejection fraction, essentially causes heart failure — and is fatal if not caught and treated in time.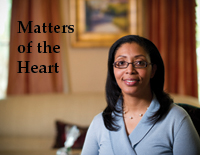 Bridget Dickey is one of MUSC's patients featured in phase 2 of the branding campaign. Employees can view the latest commercials at whyMUSChealth.com.

Dickey, who was just a week and a half out from the birth of her second son, said she was so glad her husband insisted that she get checked out. "I was experiencing severe heaviness in my chest, shortness of breath and when I laid down, it felt like I was drowning."

Dickey of Goose Creek is one of many patients to be featured in the second phase of MUSC's branding campaign that is rolling out this week. The campaign "Changing What's Possible" features real patient experiences. Dickey, who is doing well now, said her cardiologist, Marian Taylor, M.D., has her on a two-year treatment regimen that includes medication, diet and exercise.

"My experience at MUSC was great. The doctors and nurses in the critical care unit were wonderful. Everyone really took great care of me and kept my family informed of what was going on and what to expect going forward."
Dickey said it was wonderful being filmed for the television commercial. It's an experience she'll never forget, she said.
She wants to let others know the type of quality care they can get at MUSC.

"I truly believe I would not have gotten the type of A-1 treatment if I was taken somewhere else. Dr. Taylor and her team did a wonderful job, and my progress with this condition may not have been as positive as it is now if I was taken somewhere else."

MUSC's branding campaign will feature four new commercials that will be airing in nine counties, five billboard placements and print advertisements. Chris Murray, director of Business Development & Marketing Services, said they chose to use patient stories as one of the main strategies in getting the word out about MUSC's quality care.

"We let people tell their stories in their own way. There's something powerful about people sharing their own personal stories and experiences. It was moving to watch the spots being filmed."

This phase of the campaign features how MUSC and MUSC Children's Hospital is changing what's possible and leading the way in quality and innovations for health care, she said.

"MUSC Children's Hospital is the state's only academic medical center focused solely on the health of and care for children in an environment that is customized to meet their unique needs. Unfortunately, too often the public is not aware of the importance of a child being treated by pediatric subspecialists. If a child is ill enough to be hospitalized, a child is best served by being in a children's hospital where these medical and surgical subspecialists, pediatric anesthesiologists, nurses and Child Life experts are available."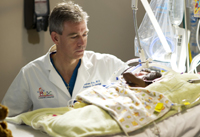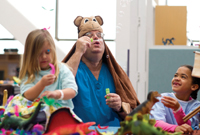 Phase 2 of MUSC's branding campaign focuses in part on the achievements of the Children's Hospital. Pictured left is Dr. Andrew Atz, pediatric cardiologist, and right, Dr. Frank McGowan Jr., Anesthesia and Perioperative Medicine.

MUSC also is going live with the rebranding of its website. Mary Mauldin, Ed.D., director of the Center for Academic and Research Computing, said a new Web template was created to support the new campaign and provide a more cohesive look between the university and clinical websites. This design, which will be applied to the hospital, research and academic sites, will improve navigation and help visitors clearly understand that they are visiting an MUSC website, she said.

Mauldin said the new template design reflects the campaign's theme and was a collaborative effort among the university's administration, six colleges, Development Office, Finance and Administration, Research, Human Resources for the medical center, MUSC Physicians and university and the clinical website leadership.

Murray said all these efforts tie together to get the word out about the great work that occurs here every day by the clinicians, educators and researchers. "The campaign is designed to create awareness and provide a mechanism for our patients to share what they share with us daily – how we changed what was possible for them."

For Dickey, that means she's being challenged to diet and exercise. She likes that she just wasn't given medication for her heart condition and sent home.

"This type of condition requires a change of lifestyle as I have known it so me having the low sodium diet along with exercise only betters my physical condition. I want a long, healthy and enjoyable life with my family, and these are the requirements to make that a reality," she said.

"I'm a busy wife and mother, and I'm loving every minute of it."

View the latest commercials at whyMUSChealth.com.