by Hollen Dodds
Public Relations

For the children at the Children's Hospital, Thursday can be the best day of the week. It's the day they wait excitedly for the Happy Wheels cart to make its rounds with new books and toys.

Happy Wheels is a volunteer dependant program that offers gifts to sick children that they can keep. The program made its debut at the Children's Hospital in 2000 and is still going strong 12 years later. Larissa Allison of Murrells Inlet founded Happy Wheels. She wanted to give back to the hospital and bring joy to children during their stay. The program also has been brought to hospitals in Greenville and Columbia.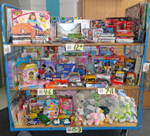 The Happy Wheels cart, stuffed with books and toys, makes its rounds every Thursday at the Children's Hospital. To watch the video, visit http://bit.ly/MUSCHappyWheels.

The cart visits as many as 80 rooms each week. Its three shelves are divided into age groups to accommodate children of all ages. The non-profit program thrives on community support coming from church organizations and small businesses to larger corporations, such as Barnes and Noble.

Some children even contribute to Happy Wheels by requesting that donations be made to the program instead of birthday presents for themselves. Harper Drolet, an 11-year-old cancer patient who passed away in 2011, was passionate about the program. In 2010, she teamed up with Wonder Works owner Christine Osborne to create a Facebook fundraiser for Happy Wheels known as the Week of Wonder. For every person who "liked" the business' Facebook page, the company donated a toy to Happy Wheels. As a result, 7,000 new toys were donated to the cart selection.

Happy Wheels director Jackie Shealy looks forward to seeing the children's smiling faces every week. She began volunteering after her only child left to go to college. "I wanted to get involved in something for me, but I had no idea the rewards I would get in return. We make a huge difference here," she said. Shealy does most of the buying for the cart and organizes the books and toys at her home in Mount Pleasant.

The rooms on the seventh and eighth floors of the Children's Hospital are temporary homes to many critically ill and injured children. Some are there for months at a time, so the books and toys from Happy Wheels make their days a little more enjoyable. Assistant director Kelly Richey is grateful that she can be a part of the program. "It's very rewarding to know that we are a bright spot in their life, even if it's just for a minute encounter," she said.

Shealy and Richey see children, who are typically too sick to leave their beds, roaming the halls with their IV poles in tow looking for the cart. "We once visited a room where a child left a note on her bedside table that read 'Dear cart lady, wake me up when you come.' It's amazing," Richey said. "They don't want to miss us."

To volunteer, email happywheelsmusc@gmail.com.
Donations: Mail checks (payable to Happy Wheels) to — Happy Wheels, 171 Ashley Ave., Room EH101 MSC332, Charleston, SC 29425-3320