WHAT'S NEW?
Bladeless Technology
MUSC will be acquiring a femtosecond laser for cataract surgery that has ultrashort pulses lasting just 50 to 1,000 femtoseconds or quadrillionths of a second which offers extreme precision in cutting.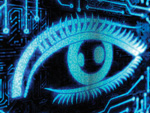 The vision center will use the laser for bladeless cataract and cornea surgery and the newest generation excimer lasers for vision correction of the cornea. George O. Waring IV, M.D., said the lasers coupled with premiums lens implants becoming available will revolutionize treatment options.

"We're supplanting blades with bladeless technology. It's terribly exciting. It's going to revolutionize cataract surgery, which is the most common surgical procedure not only in the United States but also the world."

Biomechanics
An area of advance is the ability to measure and treat the biomechanical properties of the cornea. Physicians will be able to measure the strength of the cornea and better determine if someone is a good candidate for laser refractive surgery.

Neuroadaptation
Vision is not only in the eye, it's also in the brain. There now are ways to take the cortical processing part of the brain and retrain and optimize it to help patients find new pathways to see in a part of the brain that they haven't used before. It compares to someone getting physical therapy after hip surgery. It speeds and enhances recovery. "When you talk about coupling this technology with a new lens like the telescope and using a part of the brain that hasn't seen before, it's just really exciting."
Bye-Bye Reading Glasses?

MUSC will be one of the first centers to offer a new technology, pending FDA approval, to treat presbyopia that truly will revolutionize eye care in a way that affects just about everyone, said George O. Waring IV, M.D., the new director of Magill Vision Center.

"You lose the ability to read up close as you age. This happens to 100 percent of people at some point in their life – typically in the mid 50s."

Most people resort to bifocals, but soon there will be another option. There are KAMRA corneal inlays by AcuFocus Inc., that slip into the front of the eye and are minimally invasive. Waring, who serves as the International Surgical Monitor for AcuFocus Inc., has played a key role in advancing this novel technology.

"It's a small aperture inlay – a pinhole that's microscopically small. It's 5 microns thick – the same thickness of two red blood cells stacked together."

Results from the FDA trail are promising, he said of the technology that has been 10 years in the making. On average patients see well at distance, intermediate and up close ranges without glasses. The implant also is easy to take out if for any reason the person prefers not to have it.

"It's tremendous new technology — a new paradigm in corneal refractive surgery. You'll be hearing a whole lot more about it in the near future. It's an opportunity to help potentially everyone at some point to reduce their dependence on reading glasses and bifocals."

The optical principals of this inlay are novel. It doesn't refract light at all but uses a small aperture. Waring compares it to how an f-stop works in a camera. By decreasing the size, you increase the depth of focus or the range in which all objects are clear.

"We've taken that principle and manufactured it into a microscopic disc that we implant in a small pocket or a LASIK flap at the same time we do LASIK. It's done in only one eye, and the brain can't tell the difference and it gives a full range of vision. It allows a person to focus on what they need to."
Waring blends love of clinical, research talents
As the new medical director of Magill Vision Center, George O. Waring IV, M.D., envisions promising advances.
Waring, who also is director of refractive surgery and assistant professor of ophthalmology at Storm Eye Institute (SEI), said he sees tremendous opportunity being part of the strong faculty at SEI.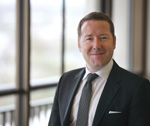 Dr. George O. Waring IV, looks forward to an exciting new era at Magil Vision Center.

"In addition to bringing the latest technology and techniques in laser vision correction, lens implant and cataract surgery, my areas of interest are to develop and expand the surgical treatment of presbyopia and keratoconus. Clinical research also is a top priority for me and the area of my focus will include ocular biomechanics."

Waring, who received his medical degree at the Emory University School of Medicine, specializes in cornea refractive, cataract and lens implant surgery. He served as administrative chief resident of ophthalmology at the State University of New York (SUNY). He completed his sub-specialty fellowship training in cornea and refractive surgery under the mentorship of Daniel S. Durrie, M.D., in Overland Park, Kan.

He has more than 90 scientific publications, abstracts and presentations to his credit on corneal, refractive and lens surgery and was the recipient of the National Rabb-Venable Award for excellence in ophthalmic research.

Waring has taught ophthalmic surgeons worldwide advanced techniques in the surgical correction of presbyopia. He serves on multiple advisory boards, and chairs the scientific advisory board of the current FDA clinical trial on collagen crosslinking for the treatment of keratoconus.

Lucian V. Del Priore, M.D., Ph.D., director of Storm Eye Institute, recruited Waring, who represents the new generation of eye surgeons integrating new technology to offer a higher tier of service.

"Dr. Waring's arrival marks an important step in Storm Eye's evolution into a premier clinical and research eye institute offering world-class surgical options and cutting-edge technologies to meet the visual needs of the region."

Waring, who arrived in January, said he's thrilled to be here, especially since MUSC is undergoing a major restructuring with innovative initiatives.

"There's a wonderful infrastructure in place. To be able to bring these technologies to an institution that has this infrastructure is great."

Loving the field of ophthalmology, Waring grew up in a family of eye surgeons. "My work allows me to be creative and innovative while helping people see better. There are few opportunities where you can combine all that.
"I'm very interested in innovation and helping push the industry – helping it to grow. To be able to do that while surgically helping people to see better is very rewarding. It can make a large difference in people's lives."
WHAT'S NEW?
Help for Macular Degeneration
Drs. Charlene Grice and Waring will be offering a new telescopic lens for patients with macular degeneration. This is a large patient population that up to now has had few good treatment options. The implantable miniature telescope sits behind the cornea and projects an enlarged image of the patient's central visual field onto the retina. Waring said the special lens is tinier than a size of a pea. "It's a very reasonable surgery and the results thus far have been very encouraging. It's very exciting to help a group of people who haven't had many options."
Crosslinking Cure Offers Hope for Keratoconus
In patients with keratoconus, corneal tissue weakens, causing the cornea to bulge, become conical and lose some of its refractive ability. Patients with this condition often have to have a cornea transplant. One of Waring's speciality research areas involves corneal collagen crosslinking which strengthens corneal tissue. This involves applying riboflavin (vitamin B2) to the cornea and activating it with ultraviolet light.

"Combined, they change the structure of the corneal tissue, which actually strengthens it and makes it more stiff. It takes this biomechanically weak tissue that bulged, and it strengthens it. Not only does it stabilize and keep it from progressing, it also reverses progression in many cases."