It would seem the benefits of diversity on campus apply not just to people. They include the tree kingdom as well.

An initiative to make MUSC an arboretum begins April 27 with a celebration of Arbor Day. The idea is to spend the next year until Arbor Day 2013 planting diverse native species that will create an urban forest on campus, enabling MUSC to become the fifth campus in the state to be designated a Tree Campus USA by the National Arbor Day Foundation. MUSC will join the ranks of Clemson, Furman and the University of South Carolina's Columbia and Upstate campuses.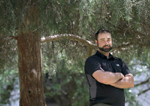 Nate Dubosh in the Horseshoe, a favorite picnic spot because of all the shade trees. Everyone on the grounds crew is supportive of each other and does a great job keeping the campus beautiful, he said.

In honor of the event, Nate Dubosh, MUSC's certified arborist, will teach people how to properly plant and care for South Carolina-native trees at noon behind the Darby Children's Research Institute.

A strong proponent of the movement is Jerry Reves, M.D., Distinguished University Professor and dean emeritus, College of Medicine, who said the move complements the city of Charleston being a Tree City USA community.

"We have an opportunity to promote the health and growth of our native species of plants and trees in an urban setting to support the city's efforts, all while promoting health and teaching the community and MUSC family members about these species. Becoming an arboretum is simply part of being a first-rate campus."

Dubosh is heading up the initiative, which will focus on increasing the diversity of trees on campus. The campus has about 65 different species with plans to increase that number to 200. Having a diversity of species offers more biodioversity and resistance to diseases, he said.

Dubosh and his colleagues are working on a master landscape plan for the campus, ensuring the holistic integration of the arboretum into the overall campus facilities planning including landscape planning and maintenance efforts. An overall goal of this effort is to serve as an example of the best in urban forestry planning and construction to inspire other local communities to adopt and implement these practices.

Campus trees will be identified, protected and included in a dynamic electronic inventory available to the public through an interactive website that will catalogue each tree and provide the basis for its care and maintenance. Scannable QR tag codes will be placed on trees to turn the campus into a living museum of botanical offerings. Varied native vegetation supports the mission to educate people about trees and plants unique to the Lowcountry.

Dubosh said the arboretum ties in nicely with ongoing plans for a medicinal garden, an educational tool for students and visitors. Other plans include designating a spot for a small fruit orchard and possibly a children's garden.
Urban forest areas improve the environment in a wide range of ways, from the improvement of air quality to encouraging people to be outdoors and exercise more. Another benefit is research that shows patients require less medication and recover faster when allowed access to or views of forest areas, he said.

In Japan, researchers have long studied what they call 'forest bathing,' a concept that appeals to Dubosh. They have found that a walk in the woods can reduce the level of stress chemicals in the body and increase natural killer cells in the immune system, which fight tumors and viruses. Studies in inner cities show that anxiety, depression and even crime are lower in a landscaped environment and that children with ADHD seem calmer when they increase the time spent outdoors.

Having enjoyed earning his arborist certification in the past year, Dubosh said he can't stop himself from noticing trees now. "It's a curse," he said, smiling. "I'm driving around and I see what's wrong with this tree and what's right with another. There are so many things I like about trees – their timelessness – how they'll be here long after we're gone."

He loves his job, which has him outdoors 90 percent of the time, often up in a tree. He appreciates that he gets to see the campus from a perspective that no else gets to experience. Glad that more trees will be taking root on campus, Dubosh said it reminds him of one of his favorite proverbs.

"The best time to plant a tree is 20 years ago. The second best time is today."
Want to contribute?
Anyone who wishes to contribute to the arboretum project, can donate through MUSC's Yearly Employee Support (YES) Campaign. Visit https://giving.musc.edu/yes and click on Make a Gift.

For information on the campaign, call the Office of Development at 792-4275 or Whitney McLuen at 792-1973. McLuen alsomay be reached at mcluen@musc.edu.