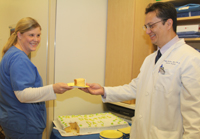 STICU nurse Ashley Jacobs shares a piece of cake with Dr. Ralph Barker as part of her unit's celebration of National Doctors' Day, March 30. The staff prepared a buffet to honor its attending physicians and residents.

Robert G. Gellin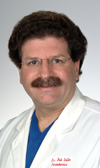 Robert G. Gellin, DMD, professor and Department of Stomatology chair and Division of Periodontics director, was elected secretary to the Consortium for Oral Health Research and Informatics (COHRI) board of directors. COHRI is a dental informatics consortium of U.S. dental schools interested in using a comprehensive clinic management software to manage electronic health information and share data to facilitate clinical research. Gellin's position will prepare him for the role of chair by 2014.

Jean Nappi


Jean Nappi, PharmD, professor, College of Pharmacy, has been named by the American Association of College of Pharmacy to receive the Robert C. Chalmers Distinguished Pharmacy Educator Award. The award is given to one of approximately 5,000 pharmacy faculty members in the U.S. each year.

Rick Schnellmann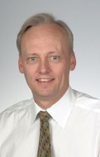 Rick Schnellmann, Ph.D., chair of the Department of Pharmaceutical and Biomedical Sciences in the S.C. College of Pharmacy, was named Distinguished University Professor by the MUSC board of trustees. The title Distinguished University Professor is the highest academic distinction granted by the board of trustees. Only 36 have been named in MUSC's history.

EVENTS
SCTR Scientific Retreat
The South Carolina Clinical and Translational Research Institute will be hosting the Mobile Health Technologies 2012 Spring Scientific Retreat from 8 a.m. to 4 p.m. April 26 in Room 110, Bioengineering Building. Visit http://sctr.musc.edu or call 792-1498.
Gourmet & Grapes
The annual Gourmet & Grapes cuisine and wine event will be held May 4 - 6 at The Sanctuary at Kiawah Island Golf Resort. The fundraiser will benefit Hollings Cancer Center. Visit http://www.gourmetandgrapes.com.