Being the good sport that she is, Kelly Dillon reached her hand into the bin to gently lift up the brain.

Assisting in manning a booth at the SCresearch Expo held April 3 in the MUSC Horseshoe, Dillon wrinkles her nose squeamishly. She explains the brain donation coordinator, Nicholas Gregory, who usually displays the brain, has taken a break.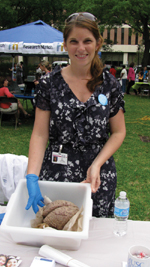 Kelly Dillon, program assistant in Neurosciences, educates expo participants about MUSC's brain bank. For more information, visit http://www.musc.edu/brainbank.

A bystander stops to admire and exclaims, "Ohh, that's the real thing, isn't it?"

Dillon nods, offering brochures about MUSC's brain bank, the Carroll A. Campbell, Jr. Neuropathology Laboratory, which is dedicated to being the link between clinicians, scientists and pathologists involved in neuroscience research.

That's what the expo is all about – helping clinicians, researchers and the public make connections, increasing research participation statewide. More than 100 studies were represented at the SCresearch Expo sponsored by the South Carolina Clinical & Translational Research Institute (SCTR).
Dr. Kristyn Zajac is doing a study about stress and parenting among teen mothers. It is sponsored by the Department of Psychiatry and Behavioral Sciences. She is seeking mothers under the age of 20. Call 792-3354 for more information.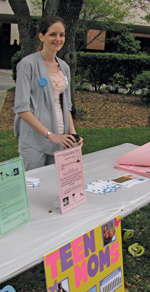 The studies displayed represented a wide spectrum of research including Alzheimer's, diabetes, psychiatry and genetics. The purpose of the event is to raise awareness of the many research opportunities on campus and encourage employees and visitors to get involved.

Jenna Gillis, recruitment core leader for the institute, said she was pleased by the response. "I was optimistic leading up to the event, but what I didn't anticipate was the magnitude of research volunteer response. Study team after study team reported interest in their research that far exceeded recruitment expectations. We have a great contingent of research supporters, and I'm so encouraged that SCresearch Expo helped them find the right study participation opportunities."
Participants could see the damages of smoking at this booth. The expo offers educational displays on health and chances for employees and the public to get blood pressure screenings.

Tara Novit-Thomas, Hollings Cancer Center Clinical Trials Office, said this is the first year that the office has participated.

"It was a wonderful experience. It was a great opportunity for folks to learn about the research studies going on campus wide for themselves or for their family and friends. There's a lot happening in research here at MUSC and this expo was an effective way to get the word out about how we are 'Changing What's Possible,'" she said of MUSC's brand campaign. "We look forward to participating next year."
Hollings Cancer Center's Clinical Trials Office was a newcomer to the expo.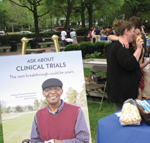 SCresearch.org is an online clinical research studies directory designed by SCTR specifically to help volunteers find studies in which to participate. SCresearch.org currently hosts clinical trials from MUSC and Spartanburg Regional Healthcare System, but will be expanding to including other institutions in Health Sciences South Carolina.