MUSC will join hospitals throughout the country in recognition of National Healthcare Access Personnel Week,
April 1 - 7.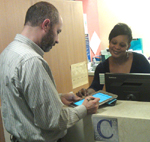 Latisha Moultrie, a registrar at Ashley River Tower, explains the consent form to a patient using the E-Signature iPad.

Dan O'Donnell, new director of Patient Access Service (PAS), said the patient access staff has a great opportunity of setting the tone for a positive patient experience. "During the past several weeks, I've had the privilege of observing several instances of Patient Access staff demonstrating 'service excellence.' We only have one opportunity to make a good first impression. When it comes to service excellence, there is no finish line."

In an average day, the department handles requests from physicians, nurses and patients. Physicians call to schedule patients for admission and nurses inform the PAS staff of any patient transfers. The staff is responsible for admitting patients, inpatient and outpatient services, surgery, radiology, sleep studies, labs and emergency services.

Donna Rosado, Emergency Room Access staff member, said it's rewarding working in the Emergency Department. "To have patients trust in me and to become part of their experience, whether good or bad, from beginning to end is success in my book. It has widened my knowledge of various personalities, hardships and emotions that has made me a better person."

The staff must be knowledgeable of the many components that impact the registration process including governmental regulations and guidelines and the requirements of the various insurance companies.

During the access process, patients sometimes are feeling apprehensive and need support. Rutledge Tower access services staff member Eileen Brown said one of her favorite parts of her job is the interesting people she meets. "I've laughed, cried and even rejoiced with them in their recovery. If you don't like what you do, you will not be good at what you do. Our main priority is to balance efficiency with large doses of caring and concern."

Another staff member, Herbert Love, agrees that the job is very rewarding. "I am very proud to work in PAS, we have the first opportunity to make the patients feel pleasant and ensure that they have made the right choice by choosing MUSC. It truly makes my day knowing that I have made my patient feel very comfortable while they are here."

Ashley River Tower PAS staff member, Patricia Washington welcomes and registers patients for gastrointestinal and cardiology services. Her motto is "be the smile that you want to see. Always remember to treat everyone you come in contact with as you would like to be treated; with dignity and respect."

As we celebrate National Healthcare Access Personnel week, we also recognize the tremendous contribution the staff makes toward the achievement of the vision and mission of MUSC.