by Cindy Abole
Public Relations

At the 10th annual S.C. Nursing Excellence Conference in Columbia, MUSC nurses picked up multiple awards, including three first place showings that bode well for how MUSC nurses are well on their way in achieving Magnet status.

Andrea Coyle, R.N., professional excellence coordinator and MUSC Nurse Alliance chair, believes these statewide accomplishments emphasize the medical center's commitment to nursing excellence and quality patient outcomes. These ideas will contribute to South Carolina's nursing efforts and make an impact on positive patient outcomes.

"MUSC nursing has a great history of professional growth and development. Our success at the 2012 South Carolina Nursing Excellence Conference validates our continued commitment and dedication to 'Changing What's Possible' in health care," she said.

The March 30 event was sponsored by S.C. Area Health Education Consortium and was held at the S.C. Hospital Association in Columbia. This year's theme was Growing and Sustaining Excellence focusing on the IOM's (Institute of Medicine) report on "The Future of Nursing: Leading Change, Advancing Health" and translating those recommendations into a statewide implementation plan.

Participants discussed how nurses can become active participants in an evolving health care system and the delivery of care. Conference participants learned about the South Carolina "One Voice, One Plan" Future of Nursing Action Coalition, which is an effort to implement statewide nursing workforce recommendations for the future. The report calls for nurses to achieve higher levels of education and training.

Several MUSC nurses were multiple winners in the 2011 South Carolina Nursing Excellence Conference Poster session. Three MUSC nurses won first place in their category and one nurse was a second place winner.

The competition featured poster projects that addressed IOM's report and nursing, advancing nursing education and research and evidence-based practice.

First place winners
Category: The Impact of the IOM Report on the Future of Nursing as it Relates to the State of South Carolina (Cynthia Edwards, R.N., and Cheryl Holderfield, R.N., for the poster, "Nursing Nurturing Nurses: A Strategy for New Graduate Nurse Development in the Neuroscience Intensive Care Unit"). Holderfield is the Neuroscience Intensive Care Unit (NSICU) nurse manager and Edwards is an NSICU nurse.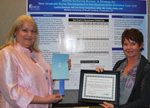 Cynthia Edwards, left, and Cheryl Holderfield, receive first place for their poster promoting nursing mentorship in the NSICU.

Category: Evidence-based Practice (Melinda Biller, R.N., Beth Rhoton, R.N., Jill Thompson, R.N., Joel Cochran, R.N., Rose Augustus, R.N., Natalie Ball, R.N., and Patricia Prause, R.N., for the poster, "Our Journey to Zero: Preventing Central Line Associated Blood Stream Infections in the Pediatric ICU").
Biller is the Pediatric Intensive Care Unit (PICU) 7C nurse manager; Rhoton is an infection control nurse, while Cochran, Augustus, Ball and Prause are with the 7C PICU staff.

Second place winners
Karen Boyd, R.N., and Jessica Johnson, R.N., for the poster, "A Better Discharge Process: Improving Patients' Experiences." Boyd and Johnson work with the 10 West Orthopaedic/Trauma Unit staff.

Category: Nursing Research
First place – Emily Andrews, R.N., for the poster, "Silent Hours on 9 East." Andrews works in 9 East's NeuroIntermediate Unit. Emily Andrews takes home first place for her research poster.