by Cindy Abole
Public Relations

Juliana and Nathen Head's story began long before dental school. It goes as far back as second grade when the two were classmates at North Springs Elementary School in Northeast Columbia. Their paths and story have taken them through a unique journey that has fulfilled both their personal and professional lives.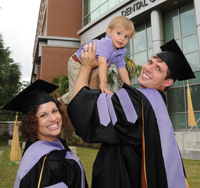 Drs. Juliana and Nathen Head with son, Reiland Clark.

Juliana Head, DMD and Nathen Head, DMD, are graduates of the James B. Edwards College of Dental Medicine. The Heads are the first married couple to enter and graduate together from the dental school. And somewhere between the didactic classes and lectures and clinical years, they also became parents welcoming son, Reiland Clark, last March. Their dental school and life experiences have prepared them for the hard work ahead of them as dental professionals working and giving back to the community.

Juliana always loved science and held an interest to work in health care. Likewise, Nathen was as a model student and enjoyed working with his hands. But careers in engineering or mathematics didn't interest him enough until he met Presbyterian College pre-dental advisor and biology professor John Inman, Ph.D., who steered him and Juliana towards dentistry.

Still in college, they traveled to Charleston and attended MUSC's Dental Day program, a daylong dental career exploration program offered to undergraduate students or those interested in dentistry.
"Dental Day helped us both see what dental school was really like. We loved that the dental school hosted small class sizes, good student-to-professor ratios and open interaction with faculty and staff. The collegiality was something Juliana and I were already used to at Presbyterian and we liked that," said Nathen.

Once in dental school, the Heads thrived in the school's dental science curriculum, clinical experiences and student life.

Department of Stomatology associate professor Rick Albenesius, DMD, enjoyed getting to know the Heads and accompanied them and other students to formal and informal functions. He was impressed with Juliana's leadership and organizational skills as Psi Omega Dental Fraternity's president.

Additionally, Juliana was Class of 2012 secretary and enrolled in the American Association of Women Dentists, American Student Dental Association and S.C. Academy of General Dentists. She also was the 2012 recipient of the Psi Omega Fraternal Achievement Award. Both are active members of James Island Christian Church.

Nathen also had his own achievements as vice president of the MUSC Chapter of the S.C. Academy of General Dentists and the American College of Dentists Award outstanding student and leader award. According to Albenesius, both are hard working, dependable and good honest people. "They're both examples of what every dentist strives to be."

Wanting to remain in Charleston, the Heads signed on as associates with the new DentalSmart Dental Care Center in James Island, a new dental practice management concept that provides centralized dental care services under one roof. The franchise practice, which is owned by a local dentist, partners with a team of certified dentists to provide the best oral health care services using the latest dental technologies and preventive techniques to their patients. For the Heads, the associateship provides a stable schedule, continuing education and learning, steady salary and a chance to pay down their dental student loan debts. More importantly, they'll learn the business as someday the couple would like to open their own practice in the Charleston area.

"We saw this as a great opportunity to help get us to a better place in our career and lives. With both of us being students, we were concerned about the mounting student debt load that we're carrying. With DentalSmart, we'll be trained to manage patients and perform some administrative activities, but primarily we'll provide clinical care for patients without the worry and pressure of handling a startup dental practice," Juliana said.

Tariq Javed, DMD, associate dean for academic and student affairs, College of Dental Medicine, worked with the couple throughout dental school.

"Both have demonstrated themselves as excellent clinical dentists. What's impressed me most is how they have encouraged each other. They've reorganized their lives, their family priorities around a demanding dental education and curriculum and have come out of it with special experiences that have made them the individuals they are today. It's a wonderful job and achievement that they've accomplished," said Javed.
Juliana couldn't have made it without:
--Nathen
--Family's support
--Sister, Gracie, and brother-in-law, Layton Powers, who cared for son, Reiland
--Maria's Mexican Restaurant on John's Island
--Diet Coke

Nathen couldn't have made it without:
--Juliana
--My parents and in-laws
--Eccentric Movement (CDM Class of 2012's student band with Tyler Caruso, Adam Gordon, Mallory Northcutt, Ben Dreschler and Paul Goforth), Nathen played drums
--James Island Christian Church
--Charleston's beaches and outdoors