by Cindy Abole
Public Relations

Five years ago, Danielle Gill graduated from Presbyterian College as an academic scholar and NCAA athlete participating on the volleyball team. Today, this standout has nailed another achievement: becoming a dentist and graduating among 56 of her classmates from the James B. Edwards College of Dental Medicine.

Gill, who is a native of Kings Mountain, N.C., came to MUSC via Presbyterian's pre-dental program and exploring careers through the S.C. Area Health Education Consortium (AHEC) Future Health Professionals Academy held in summer 2007. The program was established to help minority students prepare for careers in dentistry, nursing, medicine, pharmacy and other health profession jobs at programs throughout the state. An academic pioneer for her family, Gill is the first dentist in her family and first to earn a doctoral-level degree.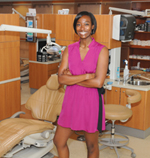 College of Dental Medicine graduate Dr. Danielle Gill wouldn't have made it through dental school without Red Bull, friends, Subway, old CDM study materials and her DVR.

Gill said her dental school experience at MUSC was more than she ever imagined. "Where else can you learn and play with new equipment and the latest dental technology," she said, proudly showing off before and after cell phone photos of a patient who just received newly milled crowns that she created with only a computer. Gill and her fellow students used the school's new computer-aided design/computer-aided manufacturing (CAD/CAM) systems that create dental crowns, veneers, inlays and onlays. In 2009, the dental school became the first program in the nation to implement CAD/CAM technology in its preclinical curriculum.

In addition to MUSC, Gill also received dental school offers at UNC-Chapel Hill, the University of Louisville and New York University.

"Attending MUSC for dental school was the right choice for me. After a couple of visits, Charleston quickly became home. Everyone from the college's dental leadership to faculty and staff became family to me. It was a good feeling."

Frederick T. Moore Jr., DMD, associate professor in the Department of Oral and Maxillofacial Surgery, compared Gill's excitement and presence as a breath of fresh air among dental students. Moore, who teaches oral surgery on the second floor of the school's new clinical education center, offers guidance to dental residencies, post-graduate training programs and job opportunities. Moore, who managed oral and maxillofacial surgery practices in Buffalo and Boston before arriving at MUSC in 2007, talked to Gill about several Northern-based general practice residency (GPR) programs and other options. Gill matched to a competitive, one-year dental GPR residency at the Newark Beth Israel Medical Center in New Jersey.

"It's hard to miss a person like Danielle with her presence, smile and boundless enthusiasm. She's positive and focused in whatever task she's involved in. I feel her upcoming residency has the potential to open up her world and perspective in dentistry by a great deal. Working in a hospital to provide multidisciplinary oral health care will give her the experience and confidence to handle any type of dental need."

Veronica Mack, who works in the college's diversity office, describes Gill as fun, caring and determined. She has worked with her on minority recruiting and other activities. "Danielle's a joy to be around and she's comfortable working with a variety of student groups. She's hard-working and a natural leader."

An exceptional student, Gill also balanced her time outside of the classroom as an American Student Dental Association chapter representative and Delta Sigma Delta dental fraternity's Philanthropy Committee member, Student National Dental Association vice president, while also participating in dental mission trips to Uganda and Trinidad and coaching youth volleyball.

Gill is grateful for the team support of her parents, Donnell and Nevessa Moore Gill; brother, Daniel; other family and friends who will cheer her on at the May 18 Commencement.