by Cindy Abole
Public Relations

Nekaiya "Kay" Jacobs, M.D., looks smart in a pair of her Aldo 6-inch platform wedge shoes. The shoes were one of her many finds that she and several classmates collected as part of their "retail therapy" excursions in downtown Charleston. Shopping was one thing this student did to unwind and achieve balance.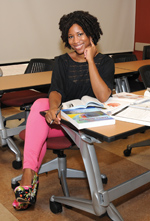 Dr. Kay Jacobs with her books and her newest pair of Aldo 6-inch floral platform shoes.

But don't let Jacobs' chic style and communal pastime fool you. She has brains, talent and an exciting future as a pediatric resident starting July 1 at Southern Illinois University School of Medicine in Springfield, Ill.

The eldest daughter of three, Jacobs is the first in her family to graduate from medical school. She is among 142 new physicians in her class graduating from the College of Medicine in the May 18 Commencement ceremony.
Described as carefree, conscientious, selfless and hardworking, Jacobs is excited to realize her dream.

She credits her success to her parents who instilled hard work and family values fixed on excellence through education. Mom, Jackie, returned to school later in life to become a middle school guidance counselor and father, George, rose through the ranks to become a supervisor working at UPS Inc. Her grandmother, at age 62, completed her GED alongside her granddaughter in 2003 when they both earned their high school diplomas.

A solid student all her life, Jacobs didn't seriously consider a career in medicine until college. She earned a biology degree from the University of South Carolina (USC), Columbia in 2007. At USC, she was a member of the African-American Pre-Med Students, a group of minority students who enjoyed science and explored health careers through shadowing experiences and participation in health-related activities.

It was through this group that Jacobs realized the value of having minorities in medicine, especially African-American women, as role models to influence younger generations toward health care.

"To me there exists a fine line between someone telling you that 'you can do this' to 'I hope I can do this' to finally, 'I know I can do this.' I've met individuals who pushed me throughout life to give me confidence to know that I possess the right skills and drive to accomplish my goals," she said.

So when Jacobs was denied admission in 2007, she didn't give up. Instead, she and three other students were admitted as part of the college's Post baccalaureate Reapplication Education Program (PREP), a selective, year-long program that admits qualified students who show academic promise to adequately prepare them for entry into medical schools. Students take advanced level science courses at the College of Charleston, receive supplemental instruction and complete other requirements.

"I knew this program would give me the right tools to improve my MCAT [Medical College Admissions Test] scores and be a stronger candidate to gain admission. I later realized that that program was exactly what I needed."

When COM Senior Associate Dean for Diversity and Associate Dean for Admissions Deborah Deas, M.D., first met Jacobs, she was impressed with her tenacity and intense desire to study medicine.

"Although Nekaiya met many of the requirements to enter medical school, she still needed a pathway to help her succeed and she found that through PREP. We're really proud of the success stories and students who've achieved much through this program. My hope is to someday recruit Nekaiya back to MUSC. She's a teacher at heart."
Starting in summer 2008, Jacobs was able to easily transition into medical school's fast-paced and rigorous curriculum. She did so well in gross anatomy class that she was asked to be a supplemental instructor to help her peers.

Throughout her clinical years, Jacobs excelled and relished learning through her student-patient interactions and collaborations with faculty and instructors. She felt the medical school's curriculum prepared her for the clinical experiences and passing the medical board exams. The COM's class of 2012 is the last class to matriculate under the school's traditional curriculum.

An accomplished dancer, Jacobs also has found balance serving others and making a difference in the community. She led the college's Students Interested in Pediatrics group, participated in outreach work with the MUSC Cares Clinic, the Junior Doctors of Health program and a medical mission trip to Uganda in 2009.

"I feel so blessed to have the life that I've had and celebrate where I am right now. I wouldn't trade my medical school experience with anything. I'm living my dream."
Nekaiya couldn't have made it without:
Family and friends
Dancing
Collecting shoes with heels
Music
Reality TV shows