by Dawn Brazell
Public Relations
Despite the occasional vampire joke, Jerry Squires, M.D., Ph.D., practically gushes about his job.

The former national medical director of the American Red Cross came to MUSC four years ago to "get back to the patients" in his position as medical director of transfusion and associate professor of pathology. Squires said he was drawn to the field because of his interest in pathology and teaching and wasn't put off by working in a blood bank as some of his colleagues were.

"Transfusions save lives every day here. But transfusion, like many medical therapies, carry some risk. It is this knowledge that makes every person working in the transfusion service so focused on doing a good job and on doing what is best for the patient," he said.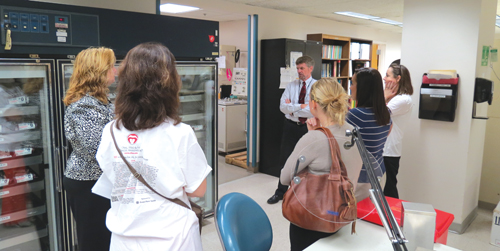 Employees tour MUSC's Blood Bank where Dr. Jerry Squires and Karen Garner, manager of transfusion services, field questions. In one year MUSC receives about 40,000 units of blood and blood products from the American Red Cross, about 60 percent, red blood cell units; 20 percent, plasma units; 18 percent, platelet apheresis; and 2 percent, cryoprecipitate.
Leading a tour of MUSC's Blood Bank, Squires explained what a huge undertaking it is to keep a Level I trauma center, such as MUSC, always prepared for whatever emergency might arrive.

He points to a board listing blood types, with the amount of units stocked in each. All donors are welcomed, but particularly type O, since this universal blood type may go to anyone. Other blood types are more restricted as they must be matched for a safe transfusion.

"We have 60 units of O, so we're good," he said, noting the bank has a minimum level it tries to keep within each blood type. "But we can have a patient come in by helicopter in a big trauma case and that stock is gone."

A single car accident victim can require as many as 100 pints of blood. Other areas of great need for transfusion are patients with cancer and sickle cell disease. Sickle cell affects more than 80,000 people in the nation, many of whom have to have frequent blood transfusions throughout their lives. More than 1 million new people are diagnosed with cancer each year, with many of them needing blood, sometimes daily, during chemotherapy treatment.

MUSC receives blood from the Red Cross that has been processed and tested. Squires raves about the services. "We talk to the Red Cross every day. They're incredibly valuable to us. The Red Cross does a superior job here."
One blood donation can save up to three people, given all the components in blood that are needed. Red cells are stored in refrigerators at 6 degrees Celsius for up to 42 days. Platelets are stored at room temperature in agitators for up to five days. Plasma and cryo are frozen and stored in freezers for up to one year.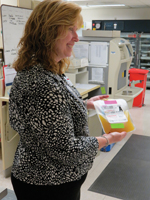 Karen Garner, manager of transfusiom services, holds up a bag of platelets that they call 'liquid gold.' One blood donation can help save the lives of up to three people.
Karen Garner, manager of transfusion services, points out an oscillator where the platelets are kept jostling.
"We have one of the lowest expiration rates of platelets because of our large use."
There are other ways MUSC's Blood Bank, which provides the blood products needed to support 42,000 transfusions a year, stands out.

Squires said MUSC is one of few hospitals committed to providing space for the Red Cross. The donor room, located in Room 279, university hospital, across from 2 West Amphitheater, is open from 10 a.m. to 4 p.m., Tuesday, Wednesday and Thursday.

Most MUSC technologists hold advanced degrees, which shows their dedication. When blood arrives from the Red Cross, it still has to be matched to patients' needs. This isn't as easy as it may seem. A sickle cell patient, for example, needs careful matching, a service that not all hospitals have the staffing and resources to perform.
Hanging on the wall in the Blood Bank is an elaborate chart of blood antigens. The transfusion of donor red blood cell units that lack certain red cell antigens (such as C, E and K) when the corresponding antigens are absent from the recipient's red cells has been shown to reduce the risk of red cell alloimmunization in patients with sickle cell disease.

Squires and his staff help advise staff about whether patients need transfusions and if so, test blood products to ensure the best match. "It's such a high-powered facility," he said scanning the room's various testing areas and equipment from irradiators to oscillators.

Another part of his job he likes is that the daily flow of blood through the bank is a testament of people's altruism. It can get challenging during holidays when fewer people think to donate blood, but yet the need remains there. "There's always this pressing need. It never takes a vacation. It never quits. There could always be more donors."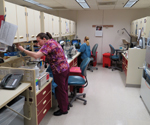 Technologists in MUSC's Blood Bank test patients' blood to make the best matches with the donated blood.
Barbie Kolar, donor recruitment representative with the American Red Cross, praised MUSC for donating space. It's crucial for the Red Cross to have that support. Blood can be safely donated every 56 days, which is a good thing since every two seconds, someone in the nation needs blood. Nearly 5 million people need blood transfusions each year, and one in 10 people entering the hospital needs blood.

Often family members in the hospital waiting for news on their loved one will donate blood, knowing that one day it will be used to save someone else.

She smiles. "Those are special days for us."