The College of Dental Medicine's Class of 2015, as part of the MUSC Gives Back program, completed a seven-week program of training in oral health to second grade classes at Harborview Elementary on James Island.

Eighty students received instruction on topics such as tooth development, dental decay, oral hygiene and nutrition using teaching techniques and materials to actively engage the students.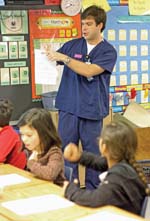 William Stewart, College of Dental Medicine Class of 2015, leads an interactive session in one of the four second-grade classes at Harborview Elementary school.

The idea was born from a consultation between dental medicine's Class of 2013 students Marie Cross, Graham Lee and MUSC Gives Back director Liz Sheridan.

According to second-grade teacher Terri Ulichine the students anxiously awaited for the dental students to arrive every Tuesday. "The lessons were always well prepared and actively involved all of the students. We were very impressed how the dental students handled so many second graders at one time. Our students learned so much and had lots of fun. We would love to do this every year."