Showing slide after slide of the innovative ways researchers are using mobile health technology, a National Institutes of Health administrator encouraged attendees of a scientific retreat to extend the reach of this tool in reshaping health care.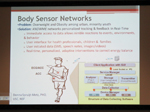 Researchers are working with body sensor networks to combat obesity issues in urban youth.

Wendy Nilsen, Ph.D., was the keynote speaker at the Mobile Health Technology retreat April 26 that was sponsored by the South Carolina and Translational Institute. Researchers from MUSC, Clemson University and the University of South Carolina presented highlights of their research during the event that was attended by more than 80 participants.

MUSC President Ray Greenberg, M.D., Ph.D., welcomed attendees. He said the retreat offered a great opportunity for partnerships to be forged and fits into MUSC's strategic plan of fostering innovation and technology. Attending the conference were professionals representing a wide range of specialties, including clinicians, engineers, software planners and entrepreneurs.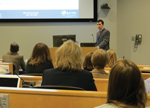 Dr. John McGillicuddy in MUSC's Department of Surgery gives an overview of how mobile technology is being studied as a way to help kidney transplant patients adhere to their medications.

Nilsen, chair of NIH's Mobile Health Training Institute and Health Scientist Administrator in the Office of Behavioral and Social Sciences Research, said the portability of the technology and ability to deliver personalized medicine makes it an exciting area to explore that goes far beyond telemedicine. The technology offers ways to give realtime feedback to patients to empower them to manage their own health.
Wendy Nilsen of the NIH explores the exciting future of mobile health technology at a retreat held in MUSC's Bioegineering Building.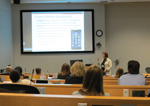 She highlighted research that ranges from wearable chemical sensor systems to body sensor networks. There are more than 20,000 apps on health and fitness, but few have empirical evidence showing of how well they work. She encouraged the participants to form interdisciplinary collaborations and use her office as a resource for future research and grants.

"It's your good ideas that we're looking for."

Her suggestions:

Join the listserv mHealth-Training@list.nih.gov

Check out the mHealth Training Institutes that offer five-day trainings to help professionals develop the skills to improve the design and research of mobile technology.

Contact her if researchers are looking for more information on funding or ways to collaborate with colleagues at nilsenwj@ad.nih.gov or 301-496-0979.
Breaks and breakout sessions at the retreat offer opportunities for attendees to network.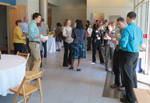 For more information on SCTR, visit http://sctr.musc.edu or call 792-8300.