Snuggling close to the new bundle in her arms, Katherine Heath watches her 1-day-old daughter Charlotte smack her lips the way only newborns can.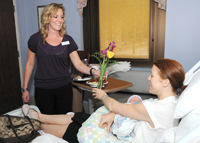 Charlotte Heath, who was born at 1:14 a.m. May 2 enjoys a nap next to a rose her mother, Katherine, just received from GetWellNetwork. Natalie Carr, left, delivers the meal and flowers to new mothers on 5E. Below, Carr dishes up the plates that include double chocolate brownies for dessert.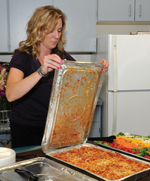 Heath gazes at her, happy for the peaceful moment.

"She was a squirmer and a screamer last night," she said, grinning. This is her third child so she knows what to do. She is grateful, though, for the early Mother's Day lunch and flowers brought to her. It's a service of GetWellNetwork, with whom MUSC partners to provide interactive patient care.

Natalie Carr, client innovation specialist with the network, said that the outreach to new mothers is part of the network's GetInvolved Now program. "We just thought it would be nice to provide flowers and lunch to the new moms."

Through community service, fund raising and charity work, GetInvolved Now assists patients, families and caregivers. Much of the group's work centers around three primary initiatives: pediatrics, leukemia and lymphoma and high risk pregnancies.

Charlotte Heath

A goal of GetWellNetwork is to enable patients, along with family members, to be active participants in their own care – all through the comfort and convenience of the television in the patient room. This service is available in many MUSC hospital rooms.

The GetWellNetwork system transforms the television in a patient room into a fully interactive resource. Through the television, you can use the GetWellNetwork system to do a variety of services from watching educational videos to seeing movies on demand.

Karen Driggers, R.N., said she likes the service because patients can watch the videos at their leisure and the information is always consistent. They provide videos on a wide range of topics, including breast feeding.
Heath said she already has learned through her other children much of what she needs to do, but was glad to know of the videos, that range from topics on breast feeding to discharge.

"But there's always new stuff out there."