by Dawn Brazell
Public Relations
Some of the athletes Michael J. Barr, DPT, trains he'd rather not meet in a dark alley. Given his job as sports medicine coordinator for MUSC Sports Medicine, that's a good thing.

It means he and his athletic trainers are doing their jobs well, and in today's world of sports medicine, that means going far beyond providing injury treatment and prevention. It extends into the area of peak performance and sports neurology as well.

That's why Barr and the sport medicine's seven athletic trainers are logging 70-plus hour workweeks and loving it, he said.

"I love dealing with athletes. I love treating them and helping them get stronger and faster and better than ever, and then getting to watch them play. Sports medicine is more than just the doctors and the surgeries that happen. The athletic trainers are the workhorses of the group. They are the faces in the community."

That's a good thing.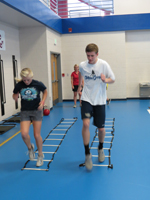 Athletic trainer Stephie Davey (background)directs drills for Academic Magnet High school students Emily Gossen, who plays soccer and Tyre Moore, who plays basketball.
An important community outreach they do is to provide pre-season concussion testing. Epidemiological studies have suggested an association between repeated sports concussions and late life cognitive impairment, but while this remains an area that needs more research, enough is known that these type injuries need to be taken more seriously.

Most adult patients, between 80 to 90 percent, recover from a concussion within seven to 10 days; however, there is evidence to suggest that the recovery time frame may be longer in children and adolescents. Some patients — children, adolescents, and adults — have more persistent symptoms, lasting weeks to months.

Baseline testing takes some of the guesswork out of it.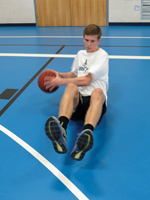 MUSC Sports Medicine started providing baseline testing for the Charleston County School District last fall with plans to expand that service to private schools as well this fall. Barr said baseline testing allows MUSC sports neurologists know when an athlete, who has experienced a concussion, can safely return to competition. Historically, concussed athletes have returned too early or have been held out longer than necessary because the examination was more subjective, and there was no way of determining their cognitive level prior to the incident. Now with pre-season baseline testing, sports neurologists can use an objective measure to determine when it's safe to return to play.

The department also offers a comprehensive list of resources for parents and coaches about concussions and when it's safe to return to play. (Visit http://www.muschealth.com/neurosciences/about/sports_neurology/resources/).

"The more we know what they can do before an injury, the better assessments we can provide and the better treatment we can provide them."

Another new area of community outreach is the start of MUSC Sports Performance Training Camps this summer for teen athletes. There will be two sessions, June 11-28 and July 9-26, 1 to 4 p.m., for athletes ages 13 to 18. All skill levels are welcome, with the program being tailored to meet the needs of the athletes who enroll.

The sessions, which will be held at the MUSC Wellness Center, cost $180 for one session and $300 for both. Space is limited to 10 athletes per group. Each session includes baseline performance and skills testing, customized training plans for the athlete's sport and goals, sport specific exercises and education and nutrition and injury prevention strategies. For registration information, visit www.muschealth.com/sportscamps or call 843-876-1890.

Barr said the program focuses on treating the whole athlete and teaching them to train smarter with sports specific drills and conditioning that have been shown to improve performance. Gone are the days of high repetitions of weights in the gym as a generic way of training, he said. That doesn't necessarily produce the best performance results.

"We can teach the principles that will help athletes to jump higher and run faster — whatever the needs are for their sport."

MUSC athletic trainers work with athletes ranging from local high school squads to professionals teams such as The Charleston Battery. MUSC Sports Medicine also works with a number of semi-professional teams such as the Lowcountry High Rollers, Charleston Outlaws Rugby and the newly developed Charleston Man-of-War Football team. The combination of the youth, professional and semi-professional teams in the lowcountry is what makes Charleston unique in the realm of sports, Barr said.

Trainers Lindsay Clarke and Stephanie Davey both said they love the switch in their profession to treating the whole athlete. Clarke said being able to treat the complete athlete is gratifying. "The schools and organizations we work with are fantastic. We're there to make sure the athletes stay healthy and on the field. Implementing the sports performance program is one more piece of the puzzle."

Barr agreed.

The teen athletes who come to the summer performance camps won't magically be turned into elite athletes in three weeks, but they will learn to move correctly, train smarter and fuel their bodies better. "And those are lifelong concepts that will make them into healthy, elite athletes."

For more information about MUSC Sports Medicine, visit http://www.muschealth.com/mski/about/sports/.