The 35th annual National Nursing Assistants' week is June 14 – 21. At MUSC nursing assistants, also known as therapeutic assistants (TAs) and patient care technicians (PCTs), provide hands-on care with patients and families.

According to Michael Sawin, nurse manager, 10W Orthopaedics/Trauma and Cast Techs, the 35th annual National Nursing Assistants' Week provides an opportunity to recognize and promote PCTs at MUSC and around the Tri-county community.
Institute of Psychiatry's August Brown, a 4North senior therapeutic assistant, writes down details for an upcoming patient meeting for the Center for Drug and Alcohol Programs adult patients.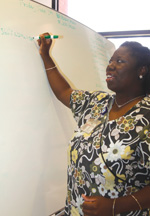 PCTs and TAs work with physicians, nurses and health care teams to provide direct patient care in various health care environments. This may include assisting the patients with tasks they cannot do for themselves while in the hospital, rehabilitation clinics, nursing homes or long-term care facilities. Technicians also may assist patients with tasks such as eating, getting out of bed, taking a bath and brushing their teeth and hair.

PCTs and TAs make a difference by seeking out and involving role models, peers, supervisors, clients, families, community members and others in the community. Nursing Assistants Week provides a venue to bring caregivers together and create projects and programs that continue throughout the year.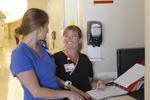 Patient care technician Caroline Flowers, right, and Kara Bogue, R.N., review a chart. Flowers was recognized as 3W's PCT of the Year.

Marilyn Schaffner, Ph.D., R.N., Clinical Services administrator and chief nursing executive for the medical center, knows first-hand about PCTs and their impact on patient care. As a teenager, she worked as a PCT in an orthopaedic unit during a summer vacation. She can remember the praise she received from a nurse who thanked Schaffner for contributing in the care of patients during one particular day. It left a memorable impact on her understanding of the role of PCTs in hospitals.

"PCTs and TAs are integral in the care of our patients, the healing of our patients and the comforting of the families. As we celebrate PCTs and TAs, I want every PCT and TA to know how much respect I have for them. What they do is hard work, but it is great work. Congratulations and enjoy our celebration of you."

Caroline Flowers is a part-time nursing student and PCT working in Ashley River Tower's 3W interventional cardiology unit.

"I love the care I provide to heart patients and working with a team of 44 dedicated and compassionate staff."
Flowers emphasized that teamwork between technicians, nurses, physicians and other staff is an essential part of the unit's success.

"Providing a nurturing, supportive and stress-free environment allows patients to feel better so that they're able to leave the hospital in a shorter period of time," Flowers said.

Medical center leadership hospitalwide recognized technicians with cupcakes on June 14.
Unit winners for PCT of the Year
Childrens
Emergency Department: Wendy Austin; 7E: Megan Diminich; 7C: Emily Dorman; 7A: Shemika Champion

Women's Health
5E/5W: Chiquita Anderson
Institute of Psychiatry
Senior Care Units: Gwen President; 1 North: Michael Daffin; 2 North: Antawn Polite; 3 North: Jordan Lucas; 4 North: August Brown; Central Pool: Lasonya Wells; STAR North: Jena Barr; STAR Leeds: Nicole Cool; IMPACT Leeds: Silvie Counts; STAR Ladson: Tracy Burgess; Seasons Program: Steve Worley
 
Ashley River Tower
5W: Kevin Douglas; 6W: Ashley Crosby; 6E: Jessica Weigel; 5E: Justyn Lamb; MSICU: Tiffany Labord and Jennifer Blackstock; Prep and Recovery: Pam Gillette; 3W: Caroline Flowers; CTICU: Katie Dennison; 4E: Andrea Coulter; Chest Pain Center: Pat Wagner; CICU: Sonita Mom

University Hospital
10W: Brett Mills and Fred Scruggs; NSICU: Jason Haan; 8E: Katie Pivett; TCU: Rowena Coultson; STICU: D.J. Tucker; Meduflex: Willie Brown and Brett Johnson; 9E: Charles Huger; MICU: Katherine Cline; 8W: Tolanda Henderson; 2JRU: Gwen Franklin and Fatima Bellinger; 9W: Mel Capers and Gail Brown; Pre-op Holding: Adrian Green; PACU: Laureen Johnson; 6W: Terrence Walker; 7W: Tamara Trainor; 6E: Margaret Sights; Ambulatory Operating Room: Eva Cuenca; Adult Emergency Department: Johann Zamoscianyk
For information on the National Nursing Assistants initiative or the opportunities given to patient care technicians, visit http://www.cna-network.org/naweek.html.