by Cindy Abole
Public Relations

Surpassing goals to improve patient care while sharing best practice ideas was the objective of the 7East Pediatric Surgery team.

Children's Hospital's Carla Pascoe, R.N., 7East Pediatric Surgery nurse manager, worked hard to lead her pediatric medical and surgical floor team in some transformative work that improved patient outcomes and overall ratings.
In little more than a year, Pascoe and her team of nurses, patient care technicians, clinical unit leaders and specialists have made significant strides in achieving high patient satisfaction scores.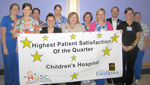 Children's Hospital nurse manager Carla Pascoe, center, and 7East staff celebrate six out of seven quarter wins for achieving 99 percent patient satisfaction and MUSC Excellence scores.

They are working smarter with multidisciplinary teams, making improvements and instituting new initiatives to achieve a 99 percent Press Ganey hospital patient satisfaction score in six out of seven quarters since 2010. This achievement rated the unit among top-ranked pediatric hospital units in the country and 65 similar hospitals within a similar peer group.

To celebrate, Pascoe and other Children's Hospital support leaders joined 7East in a celebratory meal and presentation to discuss their unit's successes and look ahead to establish goals for the future.

"Achieving this level of an outstanding care record is an important accomplishment for our unit. Lately, our score has been up and down as this reflects a busy time for us and we're still short-staffed. Our staff has better, positive synergy and I am very proud of everyone's hard work."

Pascoe cites keys to their successes — amendments to the bedside shift reports, organization of unit-specific teams, improved communications and reporting to staff, collaboration with specialty services, rounding and engagement using handwritten thank you notes, sharing best practices and lessons learned, as well as family feedback.

More specifically, Pascoe's management philosophy includes an amended version of Maslow's hierarchy of needs where meeting one need may guide others to fulfill greater needs. Pascoe believes this can be applied to patient care.

She identified 7East's needs to be survival, infrastructure, relationships, achievement and peak performance. Survival includes meeting staff and physical needs as well as overall support. For relationships, the team focused on moral, team work, recognition and rounding. Pascoe also recognized high, middle and low performers.

Kathy Kurowski, 7East nurse, is one of two clinical unit leaders who have worked hard to improve staff involvement. Earlier this year, she was nominated as a Medical University Hospital Authority employee of the month recognizing her for developing a theme-of-the-month party to build morale and encourage involvement.

"Everything Kathy does for the patients, team and unit is remarkable. Kathy's dedication and efforts not only affect the staff, but her enthusiasm permeates over to patients as well," Pascoe said.