by Cindy Abole
Public Relations

One could literally hear a pin drop in the room where seven visiting Japanese urologists sat around a conference table and stared at the dual video conference screen in front of them. Their eyes were focused on the real-time images from a prostate brachytherapy procedure that was taking place across the street in Rutledge Tower's outpatient operating room.

The procedure paired a successful treatment approach with telemedicine and emerging technologies. It featured the campus' video conferencing system to engage specialists in the role of medical education using a dedicated, high-speed fiber-optic connection. More specifically, the effort allowed urologist Harry S. Clarke Jr., M.D., Ph.D., radiation oncologist David T. Marshall, M.D., and a multidisciplinary team to demonstrate a real-time ultrasound image-guided radioactive seed implantation technique that's being used for patients diagnosed with prostate cancer. The two-way video link-up was established to provide an interactive learning opportunity for these visiting physicians.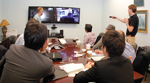 Network engineer Jonathan Yantis adjusts the audio during the May 17 prostate brachytherapy procedure and video linkup as part of an interactive learning opportunity with visiting urologists. Watch the video at http://bit.ly/Cisco_Cart

The project was made possible through the collaboration of the Department of Urology, the MUSC Office of the Chief Information Officer and the Palmetto State Providers Network (PSPN). It demonstrated the use of Cisco TelePresence Solutions' new high definition VX Clinical Assistant cart. According to Frank Clark, Ph.D., chief information officer and vice president for information technology, this project allows physicians and experts to consult with each other to diagnose and deliver high-quality health care to patients.

This spring, MUSC was the first hospital in the country to receive and use Cisco's cart prior to its May 1 commercial release.
OCIO's George Haschker, network systems team lead, tests the camera on the Cisco VX Clinical Assistant cart. The cart allows medical teams to conduct patient consultations and video conferencing.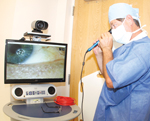 "This is a very good example of changing what's possible in medicine at MUSC Health using advanced telepresence and telemedicine technologies. MUSC Health has established itself as the telemedicine leader in the region," said Clark, who also is PSPN project coordinator.

In 2008, an $8 million grant from the Federal Communications Commission through the Rural Health Care Pilot Program was awarded to MUSC to develop PSPN and establish a broadband network linking all 46 counties in South Carolina. The goal was to provide an infrastructure for coordinating telemedicine and telehealth activities across the state. It connects rural care providers such as community hospitals, and physician practices to the state's academic and tertiary care medical centers. The network allows users to connect for clinical services, specialty consultations, training and education.

PSPN and OCIO have supported other campuswide web-based telemedicine projects. These projects include the acute stroke program; a high-risk pregnancy telemedicine consultation program featuring physicians and OB-GYN specialists. It also supports connectivity for SC Area Health Education Consortium's program office with regional centers and 20 hospitals.

The surgical video procedure was coordinated by Clarke and OCIO staff to accommodate the visiting urologists who wanted to watch the operation.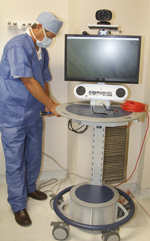 The Cisco TelePresence VX Clinical Assistant cart is lightweight, portable and features a 24-inch 1080p video HD LED backlit display, microphone and stereo speaker system, 12x HD camera, slip-proof antibacterial work surface and software.

According to Clarke, the brachytherapy procedure usually requires a large team of specialists present in the OR. This may include the patient's urologist, a radiation oncologist, residents, radiological physicist, anesthesiologist, technicians, a manufacturer representative, assistants and nurses, which makes it challenging to accommodate observers.

A test run of the procedure featuring the VX cart and related technology was successfully performed in April. Using the video conferencing system, observers also were able to review equipment and ask questions. The group's presence coincided with plans to attend the American Urology Association Annual Meeting, May 19-23 in Atlanta.

"By having this system in place, we can allow a large group of colleagues to view a procedure in real-time while not being present in the OR. It frees us from the extra steps that are necessary to accommodate medical observers. These outcomes can be viewed in real-time, archived or time-delayed to be broadcast anytime and anywhere in the world," Clarke said.