Eugene Holbert
Department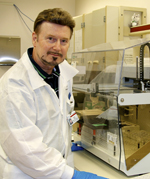 Special Chemistry and Immunology
How long at MUSC
22 years
How are you changing what's possible at MUSC
By taking pride in my work and being a team player
The best things about living in Charleston
Great people and great food
Nickname in high school
Hutch. I owned a red car identical to the one used in the TV series, "Starsky and Hutch."
Favorite place in the world
The North Carolina mountains in the fall
Dream vacation
Taking my family on a trip around the Caribbean with the $1 million I just won!
Favorite quote
"Life is too short not to do what you like."