by Cindy Abole
Public Relations

As MUSC graduates were preparing to receive their diplomas mid-May, a graduation of another kind was concluding for one faculty member who is now more prepared to lead and foster women across campus.

Elizabeth S. Pilcher, DMD, assistant dean for institutional effectiveness and professor in the Department of Oral Rehabilitation, James B. Edwards College of Dental Medicine (CDM), is MUSC's newest graduate among a class of 54 women leaders who completed a yearlong fellowship through the Hedwig van Ameringen Executive Leadership in Academic Medicine (ELAM) Program for Women.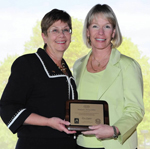 Alumna Dr. Elizabeth Pilcher, right, receives a plaque May 14 commemorating her completion of the 2011-2012 ELAM program from director Dr. Diane Magrane.

She joins a diverse community of 700-plus alumnae representing more than 180 medical, dental and public health programs in the U.S., Canada and Europe. Today, more than 90 percent of U.S. medical schools and 60 percent of dental schools have sponsored fellows. Many alumnae have succeeded to become deans or serve in senior leadership positions at academic health centers across the world.

ELAM's core mission is to expand the national pool of qualified women candidates for leadership in academic medicine, dentistry and public health by offering leadership training with extensive coaching, networking and mentoring opportunities. Pilcher, who is a 1981 CDM alumna and joined the dental faculty in 1989, is the first MUSC dental faculty member to complete the program. She joins six MUSC ELAM graduates, also known as ELUMs.

"This was a life-changing experience for me both professionally and personally. Although challenging and rigorous, the program provided me a unique perspective in learning about many facets of leadership in academic medicine and how I can make a difference. It was a very worthy experience."

The curriculum was presented in four fundamental competencies – strategic finance and resource management, personal and professional leadership effectiveness, organizational dynamics and communities of leadership practice. Each competency allows fellows to apply their learning in a variety of experiences throughout the fellowship year.

This nationally-recognized leadership development program was established at Drexel University College of Medicine in 1995 as a program to advance women in medicine and promote organizational change. ELAM was expanded the following year to include women faculty in dental education and later, women in public health.

At the May 14 ELAM graduation, Pilcher and her peers presented their independent action projects to an audience of medical and dental school deans and senior administrators. Pilcher's project focused on strategic plan implementation – a topic about which she's gained valuable experience as director of MUSC's Strategic Plan. MUSC leaders in attendance at the graduation were Etta D. Pisano, M.D., vice president of medical affairs and College of Medicine dean and Mark Sothmann, Ph.D., vice president of academic affairs and provost.

Many ELUMs today hold leadership positions in the College of Medicine, College of Graduate Studies and university and department administration. Pisano, herself an ELUM, completed the fellowship in 2004 as a rising faculty member at her former institution. Since then, she's been a strong ELAM supporter.

"I am confident that Dr. Pilcher will put the knowledge and skills she gained during her ELAM fellowship to good use. Betsy already has a great deal of administrative leadership experience at MUSC, through her leadership roles in the College of Dental Medicine as well as through her service as director of Strategic Planning for MUSC. I am certain Betsy will continue to make important contributions both to the institution and to her field, and believe that her leadership potential is unlimited."

Within the College of Medicine, Pisano solicits recommendations from department chairs of qualified ELAM nominees each year and determines the selection of one or two faculty who are nominated during each cycle.

ELAM accepts up to two nominations per institution per class cycle. Applicants must hold the rank of associate or full professor in a medical, dental or public health school and must be nominated by the dean of their institution or the chief executive officer of their academic health center. College of Dental Medicine Dean John Sanders, DDS, has been proud of Pilcher's impact as a leader and mentor for women faculty and students.

"The ELAM program fits perfectly with our campuswide Women's Scholars Initiative. Dr. Pilcher clearly has benefitted from the program and has accepted the mantle of leadership. She leads in several capacities in both the university and college level within dental medicine. Part of her duties are to develop both our male and female dental faculty and staff through the college's faculty mentoring program. Her performance in all these areas has been superb."

Now an ELUM, Pilcher will continue to meet with her subgroup team and remain active in alumnae activities. At MUSC, she will continue to work with Sanders, Pisano and colleagues to advance women in leadership, enhance networking opportunities and serve as a resource to the institution's newest ELAM fellow Donna Johnson, M.D., professor of medicine and incoming chair in the Department of OB-GYN.
MUSC ELAM graduates
Deborah Deas, M.D., College of Medicine; Laura Goetzl, M.D., OB/GYN; Cynthia Wright, Ph.D., College of Graduate Studies; Kathleen T. Brady, M.D., Ph.D., Clinical and Translational Research Center/Department of Psychiatry and Behavioral Sciences; Darlene Shaw, Ph.D., Office of the Vice President for Academic Affairs and Provost; and Etta D. Pisano, M.D., College of Medicine