by Dawn Brazell
Public Relations

An earthy, slightly sweet scent of basil wafts through the air, permeating the picnic spot of some lucky dietitians who opted to have a midday picnic in the MUSC's Urban Farm.

The fresh basil came straight from the garden, sitting in a pile of green on the table. Nina Crowley, a registered dietitian, arranges it on her fresh tomatoes. "It lets us practice what we preach. We're connecting with our food."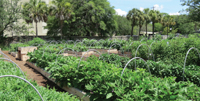 MUSC's half-acre Urban Farm reaps a rich harvest in its use as a living classroom for MUSC employees, staff, students, patients and the community.

She loves having the garden, which is located on the corner of Bee and President streets, in her work's backyard. She recently took a group of bariatric patients to the farm. One of the patient's sons had never had a sweet pea before and tried it. "He loved it."

The patients enjoyed the visit, commenting that they felt more comfortable and confident about trying new foods after visiting the garden, which will have its open house, 8 a.m. to 5 p.m. June 28.

Another picnicker, registered dietitian Debbie Petitpain, agrees that the garden is the best nutritional teacher there is. Most people's barrier is that they just haven't seen or tasted a food. She brought patients out as well and didn't have to do anything to get the conversation going, she said. "They had hands-on collaboration. They can see it, taste it and feel it. Even without tasting it, just smelling it," she said, taking a deep breath of the basil-scented air, "you know what to expect."

All the dietitians gathered said that the farm, which can be booked for picnics, is a great way to get recharged from work in a healthy environment. Betty Oswald, a medical technologist and research coordinator with MUSC, frequently volunteers in the garden. She has a small vegetable garden at home as well, but she enjoys getting out into the fresh air and greenery.

Betty Oswald

"It gets you out of that artificial light and lets you learn about so many things and about ways to prepare food."

Take basil, for instance. One of her favorite tips is to chop it up fresh and place in an ice cube tray with just a little water. Then the cubes can be popped out at any time for a refreshing addition to spaghetti or stews. Oswald said she loves being able to eat fresh food.

A group of MUSC dietitians enjoys an outdoor picnic. From left is Nina Crowley, Tonya Turner, Ashleigh Ricevuto, Vanessa Clark and Debbie Petitpain. Far right, is Suzan Whelan, who is farm coordinator.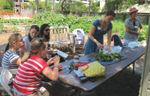 "I can't tell you the last time I opened a can."

This is just what Susan Johnson, Ph.D., director of the Office of Health Promotion, wants to hear.

"The vision of the farm is to be a living classroom."

The half-acre farm will be used for workshops, seminars, volunteer workdays and school tours. Participants will be educated on the value of incorporating vegetables into their diets through cooking and nutrition lessons and will experience a unique opportunity to engage in hands-on learning about sustainable urban agriculture.

"Although it is still in a pilot stage, I see the farm becoming a great way to increase awareness of local food, about what crops look like and how they grow. We aren't just interested in planting vegetables and flowers, we're interested in using the farm as an educational tool to help people learn about sustainable food systems."
There is a wide range of harvest in MUSC's Urban Farm from eggplant to watermelons. Flowers also have been planted for pollination purposes.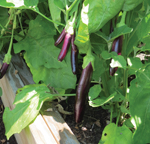 The farm leadership also envisions the plot as a gathering place on campus that can be used for special events from lectures and cooking demonstrations to opportunities for academic departments to connect with the farm.

She said she's amazed at the connections that already are happening. Garden harvest is being shared with participants and volunteers who attend work and learn sessions. MUSC chefs are incorporating some of the produce, particularly herbs, into the wellness items being served.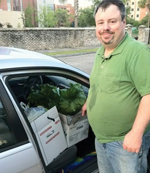 Morey J. Lent III, an MUSC employee and member of The Church of The Holy Communion at 218 Ashley Ave., takes produce from the farm to use in the church's pantry program. The church distributes food to needy people in the Canonborough neighborhood near the church.

"We also have donated produce to Lowcountry Food Bank, Charleston Area Children's Garden Project, Ronald McDonald House and Hope Lodge. We want to be sure we get fresh produce into the hands of people who need it the most."

Educational programs are being customized for special MUSC groups such as Weight Management, Bariatric Surgery Program, Healthy Charleston Challenge and STAR North IOP Children's Day Treatment, which serves low-income youth with mental health diagnoses and behavior problems.

"We plan to expand our programming to accommodate as many groups as possible, both within our own organization and reaching out to the community."

Johnson is pleased to see how well the garden is flourishing. One reason is the MUSC employees and students who love it.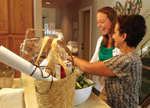 Rachel Hubbard, left, house manager at Ronald McDonald House, delights in getting produce from MUSC's Urban Farm and other donations from Suzan Whelan that were purchased by the MUSC Urban Farm Leadership Team to provide a meal.

Chris Clark, a second-year student in the College of Medicine, became interested in the farm while seeing it being constructed. He found out about the work-and-learn sessions on Wednesdays and Saturdays and has attended as many as he can.

"I was raised in rural Alabama and grew up gardening. I currently live on the peninsula and have a small vegetable garden of my own, along with four backyard chickens. At the open house, I plan to share the benefits of keeping chickens and talk about their care, housing and address other important concerns that people new to chickens may have."

Jake Schubert, a second-semester accelerated BSN student in the College of Nursing, said he also grew up with a garden in his backyard and has always had an affinity for the outdoors. He plans to share the important role honeybees play in food production systems. Schubert, who has kept several hives in the past, is fascinated with the complex structure of bee colonies.

He plans to host a honeybee session that includes a hive full of bees (enclosed in glass) at the open house at 2:30 p.m. so visitors can get up close and personal.

"I am excited to be involved in the MUSC farm because throughout history food has always played a critical role in keeping people healthy. With the current obesity epidemic, this fact is even more apparent."

MUSC Urban Farm Open House
When: 8 a.m. – 5 p.m., Thursday, June 28

Where: In the Farm on the corner of Bee & President streets

What: There will be tours, volunteer orientation, training and educational sessions. Topics include: benefits of an Urban Farm, organic pest control, sensational salads, urban chickens, beekeeping, composting and more. At noon, a short program will introduce the team and MUSC/Sodexo chefs Brett Cunningham and Ferando Middleton will present a cooking demonstration using fresh farm ingredients with free tasting samples.

Who: Open to the public. No reservations required. For a detailed schedule, go to www.musc.edu/urbanfarm or visit our facebook page at www.facebook.com/muscurbanfarm.