by Caroline Altman
Public Relations

Funding 20 grants totaling more than $40,000, the YES (Yearly Employee Support) Family Fund makes a huge difference in the lives of patients and families, said campaign coordinator Whitney McLuen.

The Family Fund provides grants to projects that positively impact the mission of MUSC through education, patient care and research. Funding for the Family Fund comes directly from employee giving during MUSC's annual YES Campaign. "As one of the 1,300 funds that employees can support during the YES Campaign, the Family Fund is helping to make a huge impact in more lives than you can imagine."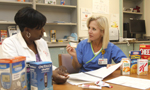 Sharon Kelly-Brown, left, nurse practitioner, and colleague Sharon Schwarz demonstrate how the Pediatric Diabetes Emergency Treatment Project provides supplies to help children with diabetes in needy families.

Erica Rouvalis, physical therapy manager, has been giving to the fund for 11 years. "The YES Campaign has provided resources to groups who use the funds to 'go above and beyond' or to fill funding gaps to do the right thing for patients and families."

She continues to donate because the fund is an opportunity to make a difference in the lives of patients and families. To her, all grants are given to well deserving projects.

Two groups that couldn't exist without the YES Family Fund are the Spina Bifida Transitions and the Pediatric Diabetes Emergency Treatment Project.

The Pediatric Diabetes Emergency Treatment Project provides glucose tablets and ketone sticks at no cost to families of diabetic children who cannot afford them. Sharon Schwarz, R.N., certified diabetes educator, said that without this project needy children would go without glucose tablets or ketone sticks since several insurance companies do not cover these supplies.

"To our families that don't have that coverage, that's huge. They typically just wouldn't buy them. If the children become ill, we are going to end up sending them for a costly emergency room visit that could have been avoided through the use of these supplies."

Anne Marie Webster, a nurse practitioner and coordinator who works for the Spina Bifida Clinic, said the transitions project helps children with spina bifida become more independent as they mature. The project teaches children with the condition how to record and organize their medical information as they become adults in order to communicate their needs to their doctors. Webster said for many teenagers with spina bifida, it can be intimidating to take charge of their health care.

"What we are hoping is that if we educate the children about their condition, and their medicines, we will keep them out of the hospitals and healthier longer."

The goal of Spina Bifida Transitions is to improve the patients' health, prepare them for adulthood, keep them out of the hospital and improve their quality of life.

McLuen said the Family Fund has awarded more than $240,000 to projects that positively impact the mission of MUSC since its establishment in 1999.

Employees and staff donating to the YES Campaign can designate their gift to specific funds, including the Family Fund, by going online to https://giving.musc.edu/yes/. A list of the most active funds is available on https://giving.musc.edu/yes/fund_list_2012.pdf. For information, call 792-1973.
2012 Family Fund grant recipients
Pediatrics Ambulatory Care: Spina Bifida Transitions; Neonatal Intensive Care Unit: Crematocrit for Neonatal Health in the Neonatal Nurseries; Clinical Neurophysiology: Technology Aiding Treatment; Child Life: Sickle Cell Sisters Support Group; Pediatric Endocrinology: Pediatric Diabetes Emergency Treatment Project; Family Medicine: CARES Clinic; Children's Services: PASSAGES; Transplant Center: Shaken Baby Syndrome Prevention Project; Pediatric Cardiology Intensive Care Unit: Skim Breast Milk in the Treatment of Chylothorax; Pediatric Cardiology: Interstage Monitoring for Cardiac Infants with Single Ventricle Anatomy; Department of Otolaryngology: Pediatric Tracheostomy Handbook; Neurosciences: Ultrasound in ALS; Pediatrics/Division of Violence Intervention and Prevention: Child Abuse Patient Assistance Fund; Clinical Effectiveness: Car Seat Project; Pediatric Hematology/Oncology: Pediatric Bone Marrow Transplant Psychosocial Program (BMT Program); Pediatric Hematology/Oncology: CAN-TEEN Support Group; Child Life: Ozzie's Project; Education and Student Life: Junior Doctors of Health Parent Exercise Program; Speech Pathology and Occupational Therapy: Bottles for Babies; Division of Occupational Therapy: REPEAT (Rehabilitating and Enriching Performance through Education in Assistive Technology).