MUSC Children's Hospital was again ranked in the top 20 hospitals for children's heart programs in U.S. News Media Group's 2012-2013 edition of America's Best Children's Hospitals, along with a first-time top 50 ranking for the pediatric gastroenterology program. The rankings are at www.usnews.com/childrenshospitals and in the Best Hospitals 2013 guidebook, available in August.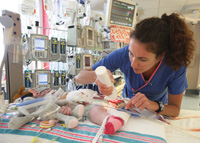 MUSC pediatric nurse, Adrienne Groh, RN 2, checks the tubes of the Berlin Heart that is hooked up to 4-month-old Kathryn Ann Mullis in the Pediatric Cardiac Intensive Care Unit.

"We are indeed proud to be recognized again as one of the top children's hospitals nationally for heart and heart surgery," said J. Philip Saul, M.D., MUSC Children's Hospital medical director and director of pediatric cardiology. "In past years, our ranking was heightened by our top survival statistics, which we know have been equally stellar during this ranking period. How well our patients do is clearly the most important measure of the program for us."

Of the 10 specialties ranked by U.S. News & World Report (USNWR), MUSC Children's Hospital now has two specialties recognized with the inaugural showing of the gastroenterology program.

"We are very excited about our developing GI program, and that MUSC Children's Hospital was able to add one faculty member last year, Dr. Christine Carter-Kent from the Cleveland Clinic, to join Dr. Bhanu Pillai and our two nurse practitioners in our clinic," said Rita Ryan, M.D., Department of Pediatrics chair. "Next month we will have a new pediatric GI division director, Dr. Antonio Quiros from San Francisco, who brings additional expertise in the care of children with inflammatory bowel disorders and is one of the few fully–trained pediatric therapeutic endoscopists in the country. With the addition of these extra faculty members, we're happy to report that the wait time for an outpatient clinic appointment with an MUSC pediatric gastroenterologist has already greatly decreased."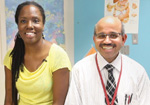 Drs. Christine Carter-Kent and R. Bhanu V. Pillai of MUSC's Pediatric Gastroenterology

The 2012-2013 America's Best Children's Hospitals, the most extensive listing of its kind, includes 50 hospitals in each of 10 pediatric specialties: cancer, cardiology and heart surgery, diabetes and endocrinology, gastroenterology, neonatology, nephrology, neurology and neurosurgery, orthopedics, pulmonology and urology. Eighty hospitals across the country ranked in one or more specialties.

USNWR health rankings editor Avery Comarow said MUSC Children's Hospital deserves high praise for its accomplishments. "MUSC Children's Hospital has a reservoir of dedication and expertise that helps the sickest kids. Our goal at U.S. News is to identify and call attention to pediatric centers like this one."

For families of sick children, Best Children's Hospitals provide unparalleled quality-related information in addition to rankings, including survival rates, adequacy of nurse staffing, procedure volume, and more. Since their 2007 debut, the rankings have put an increasing emphasis on data that directly reflect hospitals' performance over the opinions of physicians.

This year, U.S. News surveyed 178 pediatric centers to obtain hard data such as availability of key resources and ability to prevent complications and infections. The hospital survey made up 75 percent of the rankings. A separate reputational survey in which 1,500 pediatric specialists — 150 in each specialty—were asked where they would send the sickest children in their specialty made up the remaining 25 percent.

John Sanders, Children's Hospital administrator, said the recognition provided by USNWR shows the hard work and passion that the team has for providing the best care possible for the children who are served. "When parents research the outcomes for various programs across the country as they are looking for a center for their child, MUSC Children's Hospital is routinely high on their radar screens. We are very proud of the physicians and all the staff involved in our Children's heart and pediatric gastroenterology programs."

Little Hearts
The Children's Hospital's heart program has obtained a 99 percent, 30–day surgical survival rate for the last eight years (2002 – 2010), ranking it among the best in the world.

MUSC physicians and surgeons use a variety of imaging and interventional techniques to optimize planning and treatment, including: 3D echo, cardiac CT and MRI, diagnostic catheterization and non-surgical interventions such as minimally invasive catheter procedures to complement, postpone or even eliminate the need for cardiac surgery.

The Children's Heart Center, where all pediatric cardiology efforts take place, supports family-centered comprehensive care enhanced by one of the country's only dedicated pediatric cardiac intensive care units, designed for the critical care of all pediatric cardiac cases including postoperative monitoring and management.

A multidisciplinary nursing team with expertise in caring for children with heart defects minimizes discomfort and stress for every patient. Other family support services such as child-life specialists further enhance the patient's experience. This team approach to caring for the littlest of hearts is also reflected in the statewide network that supports children with heart disease.

More than 20 pediatric cardiologists throughout South Carolina and two pediatric cardiac surgeons in Charleston provide coordinated care through the Children's Heart Program of South Carolina. Cardiology groups are based in four locations – Charleston, Columbia, Greenville and Florence – with outreach clinics in a variety of other cities.

All of the surgical and catheterization procedures are performed in the Children's Heart Center at the MUSC Children's Hospital. This system allows for the highest level of care by the specialized teams while still assuring that most of the patient's care is delivered closer to home.

Tiny Tummies
The Pediatric Gastroenterology and Nutrition program at MUSC Children's Hospital supports the only Pediatric Liver Transplantation program in the state. The aim of the program is to supply care for children in the Charleston area with gastrointestinal disorders and serve as a resource to GI specialists in the region.

Currently, general pediatric GI consultation services are offered at the main campus of MUSC Children's Hospital in downtown Charleston, with the plan of offering services in the East Cooper, Myrtle Beach, Florence and other surrounding areas in the near future.

New division chief Quiros, M.D., brings with him expertise in pancreato-biliary endoscopy and endoscopic ultrasound which is available in only a handful of centers worldwide.

The new Pediatric Therapeutic Endoscopy Unit will be ready by this fall with the capacity to offer minimally invasive treatment options to children with pancreatic, biliary and gastrointestinal disorders.
Did You Know?

Opened in 1987, MUSC Children's Hospital is the largest pediatric health care center in South Carolina.
MUSC Children's Hospital is nationally ranked for its specialty services by Child Magazine, Best Doctors and U.S. News & World Report.
The hospital has the only Level III Neonatal Intensive Care Unit in the region, and the only full-service Children's Emergency Department in South Carolina, which was ranked ninth nationally in 2007 by Child Magazine.
MUSC Children's Hospital was also designated a Level I Pediatric Trauma Center by South Carolina and also is part of the American College of Surgeons Level I Trauma Center national MUSC ranking.
For additional information on MUSC's Children's Hospital, visit its website at MUSCkids.com or MUSChealth.com/children or call 792-1414.