by Cindy Abole
Public Relations

When it comes to providing local examples of proactive leadership and excellence, MUSC gastroenterology nurse Phyllis Malpas is tops among her staff.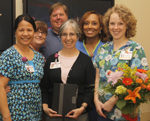 DDC endoscopy services staff congratulate nurse manager Phyllis Malpas, center, during a May 8 celebration.

Malpas, who is nurse manager of endoscopy services at the Digestive Disease Center, will cap off her 30 years in nursing as the newly installed president of the Society of Gastroenterology Nurses and Associates Inc. (SGNA). She was installed at the SGNA Annual Course meeting May 18 – 23 in Phoenix.

"I'm humbled to be selected for this opportunity and I look forward to serving my colleagues and bringing emphasis on issues on a national scale and finding solutions that will provide the highest quality of patient care."

SGNA was founded 40 years ago and is a professional organization committed to the support of nurses, technicians and associates dedicated to the fields of gastroenterology and endoscopy nursing. The group promotes advances in technology and development through educational programs of its practitioners while advocating for excellent care for patients undergoing diagnostic and therapeutic procedures.

Marilyn Schaffner, Ph.D., R.N., Clinical Services administrator and chief nursing executive for the medical center, has worked alongside Malpas as a gastroenterology nurse. In 2009, Schaffner served as SGNA president.
"It is a huge honor to have Phyllis Malpas, one of our MUSC nurses and leaders, serving as the president of a national organization (SGNA). I served as president of this national organization, and I am proud that MUSC has the opportunity to have another colleague in this leadership position 12 years later."

In her year as president, Malpas has several items on her agenda to address. Tops on her list is to establish a new strategic plan, continue to promote advanced education and certification of SGNA nurses, address several gastroenterology issues in health care policy including sedation practice and infection and prevention control.
"Phyllis is a dedicated, determined leader in our area. She's compassionate to our patients and staff and has a great sense of humor."
—Janice Freeman, R.N., DDC Endoscopy Services

"Phyllis is a gifted and knowledgeable teacher, mentor, leader and advocate. She loves GI nursing and is one who leads by example and always encourages others."
—Alida Dempsy, R.N., DDC Endoscopy Services

"Phyllis and I were involved in the move and transition of Endoscopy Services to ART in 2008. She's energetic, well spoken, insightful and open to improving how we provide quality care for our patients while supporting the needs of her staff."
—Jacqueline Napier, R.N., DDC Endoscopy Services