An MUSC chaplain and X-ray technician will always have a bond. It's not every day that someone helps save your life on a bus. The two, the Rev. Melvin S. Williams and Kelly Howard, had a reunion May 22.

Williams and Howard were heading home April 9 aboard a crowded CARTA Express bus bound for North Charleston. Less than seven minutes into their commute, Williams collapsed. Reacting quickly, Howard, who works in the Heart & Vascular Adult Catheterization Lab, assessed him and found that he had no pulse. She began performing chest compressions on Williams who could barely open his eyes and breathe on his own. Howard asked the bus driver for an automated external defibrillator (AED) device but learned they did not carry one. Almost immediately two other passengers volunteered to get an AED device at a building adjacent to their location on Calhoun Street. Howard connected the device to Williams, and it delivered a shock to him. By that time, emergency medical responders had arrived and transported the patient to MUSC's Chest Pain Center for further treatment. Williams was classified as a STEMI (ST elevation myocardial infarction) patient, which allows an individual to receive a rapid response level of care from cardiology, cardiac catheterization lab personnel and other areas. Williams eventually underwent a multiple bypass surgery and is recovering well.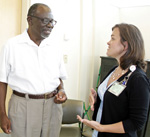 For the first time since their fateful meeting in April, Melvin Williams and Kelly Howard share some words and smiles during their May 22 reunion at Ashley River Tower. Watch the video at http://bit.ly/M5l51D.

Each year, people complete CPR training in preparation for giving aid, but not many people can apply these life-saving skills in a real-time emergency situation, Howard said.

A cardiac cath lab veteran for seven years, Howard previously worked with a three–call response team for patients and is among MUSC staff who must continually complete basic life support certification and advanced life support training, according to Natalie Ankney, R.N., Heart & Vascular Center Cath/EP Labs, Prep and Recovery manager.

"Kelly is one of my most valuable employees. She's committed, detail oriented and a high performer in our area. She puts 110 percent into everything she does."