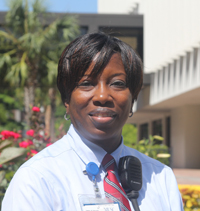 Derrelle Green-Patrick
Department
Safety & Security
How long at MUSC
4 years
How are you changing what's possible at MUSC
I take my job seriously, and I don't mind helping. I try to be as professional as I can be and get personal with people who I meet. I try to be a positive influence.
Favorite part of being a sergeant in the Army National Guard
Meeting people. When the new soldiers come in, I'm responsible for showing them the ropes and amking sure they are squared away. I like doing that.
Favorite singer
Patti LaBelle. We share the same birthday.
Best thing about living in Charleston
Eating seafood
Dream vacation
I'd love to go to Aruba.
Greatest moment of your life
The birth of my children, each one. Three boys and the youngest is a girl. She makes my day when she tells me I am the best mommy in the world.
View her video at http://bit.ly/KXxmaK