by Bilan Williams
Public Relations and summer program principal

In a move that helps cultivate the work force of the future, MUSC accepted high school and college students from the Charleston County Summer Youth Program who allows them to gain professional work experience.

MUSC President Ray Greenberg, M.D., Ph.D., praised the program.

"Many kids in Charleston grow up in the shadow of MUSC and the College of Charleston, yet never set foot on either campus. It is a foreign environment for them, and we want them to feel like they belong."

Greenberg has first-hand knowledge with the relevance of making students feel welcome on campus. He cited his childhood in Chapel Hill, N.C., as one of the reasons for his decision. His father, Bernard G. Greenberg, Ph.D., taught at and served as the dean of the University of North Carolina School of Public Health. "I was lucky growing up. At an early age, I became acclimated with the campus and it felt like a second home."

The opportunity proved beneficial. Greenberg completed his undergraduate studies at UNC and later returned to the school to obtain a doctoral degree in epidemiology as well.

"There is always a possibility that some may be interested in coming back for school or careers once the program is over. Exposing students to these opportunities is important for the future and the youth in Charleston."

MUSC has previously hosted summer programs for the local youth, but the program this year is much larger. Last year's program had 10 students on campus compared to the 32 students serving six-week assignments this summer. The county accepts 100 students between the ages of 16 and 21 and allocates them as needed to different agencies.

Rhonda Walters, an administrative assistant in the Office of Student Diversity, praised Greenberg's decision to provide funding for the students. "He is a wonderful leader with great vision."

Walters also played a vital role in the process. She interviewed the students, instructed them on the code of conduct, helped them gather documents for Human Resources and introduced them to mentors on campus who could assist them if she was unavailable.

Greenberg is delighted with the efforts of all employees involved in the program. "Everyone has a lot to do. Employees who have been willing to take on additional responsibilities are going above and beyond the call of duty, which is great."

Walters said the program gives MUSC a chance to do what it does best – provide leadership.

"I enjoy the chance to meet talented, smart and tenacious students who have a lot to offer. The experience is beneficial due to the opportunity to see leadership and professionalism, interact with others and build a network with MUSC that will last for years."

Networking for Success
Greenberg and Walters are not the only ones happy with the success of the program.

Grant Sineath, a third-year student at Clemson University, is working in the SCTR Center for Community Health Partnerships in the College of Nursing. "I create thematic maps using data and computer programs to help people better visualize things. They are useful for teaching and outreach."

Grant Sineath

Sineath believes the experience is important because it provides an opportunity to see how a professional work environment truly operates. "I've already learned some insightful tips for the future. For example, the ability to network is a significant key to success."

He said he would recommend this program to others. "If the potential candidate is serious about their future and willing to learn, then they should give it a try."

Sabrina Pierce is another student who is glad to be a part of the program. A recent graduate of the Charleston County School of the Arts, she is working in the Office of Student Programs with Walters and her colleagues.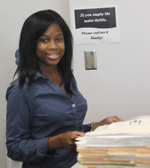 Sabrina Pierce, a student with the Charleston County Summer Youth Work Program, sorts through and shreds papers. Pierce is working in the Office of Student Programs.

"I answer and make phone calls, as well as enter information into databases and run errands as needed. I enjoy being in the office environment and experiencing different things for the future."

She said that she is also learning from her professional counterparts. Dorothea Gadsden also supervises Pierce in the Office of Student Programs. Gadsden has provided her with useful information. "We've gotten together to discuss college plans and even my next steps financially. It's nice to have someone who has already been working in a professional environment offer advice. It's a great experience."

Walters said she would be more than willing to continue her role in the process should MUSC maintain the initiative with Charleston County in the future.

"I believe in this program and what it offers. More agencies around the county should provide this opportunity to young people. Most, if not all, of the students will take the skills they learn here and flourish. I think of our motto 'Changing what's possible,' and I believe that this is changing what's possible in our community."