by Cindy Abole
Public Relations
At the new MUSC Health East Cooper, the steady sound of trickling from a 23-foot water wall provides a welcoming atrium entrance. Just left of that is a modern, wood-curved front desk where a medical concierge greets patients and visitors and ushers them to their destination.

The dramatic lobby look could pass for one of dozens of the Holy City's high-end hotels located in peninsular Charleston. Instead it is MUSC's newest patient care facility that opened July 9.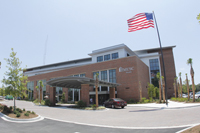 MUSC Health East Cooper welcomed patients and staff July 9. To schedule an appointment in Mount Pleasant, call 792-1414.

It is the result of a five-year collaboration between MUSC and Mount Pleasant when representatives officially broke ground in summer 2010. At the July 10 ribbon-cutting ceremony, East Cooper business and community representatives, MUSC leaders and staff, local media, Mayor Pro Tem and councilwoman Thomasena Stokes-Marshall gathered to celebrate the historic event.
Dr. Etta Pisano, center, along with Thomasena Stokes-Marshall cut the ribbon celebrating the opening of MUSC Health East Cooper with help from Dr. Philip Costello.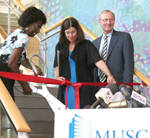 The new three-story, 84,000-square-foot facility, located near the I-526 and US. Hwy. 17 North interchange and Hungryneck Boulevard, consolidates services from multiple practice sites and is a physical testament to the Tri-county's population growth, especially East of the Cooper. The expansion of health care facilities and options has increased in this area since 2010. The MUSC Health East Cooper will provide high quality and comprehensive services that are more practical to meet the needs of patients living in Mount Pleasant, Daniel Island, North Charleston and Georgetown.

Triumph for Patient-centered Care
The new facility is a triumph for MUSC Physicians and its goal to provide patient-centered care according to Philip Costello, M.D., MUSC Physicians president and chairman of the Department of Radiology and Radiological Science.

A concierge greets patients and visitors.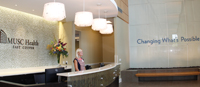 "This new site, with the equipment and facility, allows us to provide a single entry point for patient access into the MUSC health care system," he said. "We intend to deliver a patient experience that is cohesive with our health care. Peace of mind is what we intend to provide to our patients. When they're here they will know that they are backed by the largest team of specialists in the Lowcountry."

MUSC Physicians is the physician's practice plan for the medical center. The group represents 730 multi-specialty practice physicians, practice sites and Carolina Family Care facilities throughout the Tri-county.

"We've been interested in developing a health center in Mount Pleasant since 2008 that features the largest number of specialists concentrated East of the Cooper," Costello said. "Our goal was to bring these physicians and their expertise together in a single, multi-specialty center site so they can deliver and provide patients with a cohesive health care experience."

In this first phase, the facility supports comprehensive breast imaging services, neurosciences, neurosurgery, orthopaedics, radiology services (ultrasound, CT, X-ray, MRI, mammography, Dexa scan), laboratory and urology services. Later, more than 20 other services will be introduced including allergy, cardiology, endocrinology, ENT-otolaryngology, family medicine, gastrointestinal and other subspecialties. Once complete, the facility will host more than 90 physicians and staff.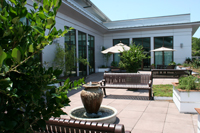 The roof top healing garden, located on the third floor, provides a quiet respite.

Building Aesthetics
MUSC Health East Cooper is aimed at providing a warm and welcoming experience in a planned and functional space.

According to Chris Cochran, MUSC Physicians director of facilities and business development and co-project director, patients and visitors will be drawn to the generous space and aesthetics featuring a rooftop terrace, healing garden and adjoining community meeting room. Another priority was to offer healthy food choices with the Black Bean Company Café. Inside, designers chose warm earth tones and a flowing water theme throughout the facility, clinic and exam rooms, waiting and passageway areas. Photography and artwork tell a story of Lowcountry life by local artists.

As for building construction and technology, the three-story building features the latest in microwave communications technology to transfer voice and data back to MUSC's main campus. A wireless network allows clinicians and staff to access patient data and securely connect to the medical center's electronic medical record network and clinical information technology systems.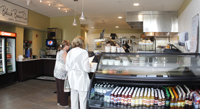 MUSC Health East Cooper offers visitors and patients healthy food choices from the Black Bean Company Café.

According to Cochran, the building also is vying for a LEED 2009 certification as a Green Building from the U.S. Green Building Council. One particular feature is the building's ice-based thermal energy storage cooling system. Instead of using a conventional air conditioning system, this system produces and uses ice as a source of cooling energy that is smart, cheap and resourceful.

MUSC College of Medicine Dean and Vice President for Medical Affairs' Etta D. Pisano, M.D., summed up the event.
"This facility is a great example of how MUSC links the top specialists in the country to provide coordinated health care and the best patient experience available. It's an exciting day for MUSC and the East Cooper community and we're proud and excited to provide this unique environment."
MUSC Health East Cooper
1600 Midtown Avenue.
Mount Pleasant, SC 29464
876-8282; 876-8181 (Fax)
Three floors, 84,000 total square feet; 92 treatment rooms, 10 infusion stations

Construction initiated in August 2010
Specialty services/clinics (Current): Laboratory Services; Neurosciences; Neurosurgery, Orthopaedics; Radiology (Ultrasound, CT X-ray, MRI, Mammography, Dexa Scan); Pediatric Urology and Adult Urology
Future specialties and subspecialty services to open (August to November): Allergy, Cardiology, Endocrinology, ENT-Otolaryngology, Family Medicine-After Hours Clinic, GI, GI Surgery, Infectious Disease, Infusion (Chemotherapy), Internal Medicine, Interventional Radiology, Medical Oncology, Nephrology, Plastic Surgery, Pulmonary, Rheumatology, Surgical Oncology, Travel Medicine and Vascular Surgery
Patient and family amenities: Black Bean Company Café, rooftop healing garden and community room
Facility features: LEED 2009 Green Building Certification (in progress); iced-based Thermal Energy Storage Cooling System; microwave communications technology for voice and data (750 Mbps) and secure wireless integrated network