by Cindy Abole
Public Relations
Three women faculty were recognized June 28 for their accomplishments and will have further opportunity to expand in some collaborative mentor-led research as 2012 recipients of the John R. Raymond Mentoring Fellowship awards.

Kelly Harris, Ph.D., Department of Otolaryngology-Head & Neck Surgery; Megan Baker Ruppel, M.D., medical director of Hollings Cancer Center's Comprehensive Breast Care Center; and Kristyn Zajac, Ph.D., Department of Psychiatry and Behavioral Sciences, were second-year honorees of this award.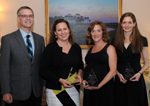 Dr. John Raymond congratulates award winners Drs. Megan Baker Ruppel, from left, Kelly Harris and Kristyn Zajac.

The program was established in 2010 to create financial support for women faculty to initiate a collaborative mentoring relationship to develop their research, teaching or clinical skills. Funding for this program was established by the Office of the Vice President for Academic Affairs and Provost Mark S. Sothmann, Ph.D., with expanded funding from College of Medicine Dean Etta D. Pisano, M.D.

Being selected was a surprise for winner Harris, who came to MUSC in 2003 to complete a clinical fellowship. Harris focuses her work on cognitive neuroscience, audiology and speech. Her interests center on evaluating function using electroencephalography and structural imaging data to examine the connection between age and hearing loss related to changes in brain structure and function. She will collaborate with mentor John Richards, Ph.D., Carolina Distinguished Professor of Psychology at the University of South Carolina, who has already conducted neuroimaging work in this area.

"Dr. Richards' work parallels my own because he does research in the visual domain mainly in infants but has experience across the lifespan. It gives him an opportunity to apply his techniques with a different population and strengthens my work because it proves how I can interpret my own results."

Ruppel, associate professor in the Department of Surgery, completed her surgery residency training at MUSC. She is the first female general surgery residency program director and will manage the training of 45 surgical residents. For her fellowship, Ruppel will conduct a teaching mentorship managing the transition from being a medical subspecialist to that of a program director and role model working with surgeon-educator Joseph Cofer, M.D., of the University of Tennessee-Chattanooga College of Medicine General Surgery Program. Cofer, who completed his fellowship training in transplant surgery at MUSC and helped establish the hospital's first liver transplant program, is president of the National Association of Program Directors in Surgery and has an interest in managing the surgical curriculum in graduate medical education.

Zajac is focused on the development and evaluation of evidence-based treatments for co-occurring substance use and post-traumatic stress disorder among high-risk youth. While Zajac's past research and training has focused on adolescent populations, she plans to expand her work to include older, transition-age youth, who are at the greatest risk for co-occurring problems. To accomplish this, Zajac will be mentored by Maryann Davis, Ph.D., research associate professor of psychiatry at the University of Massachusetts Medical School's Center for Learning and Working
During the Transition to Adulthood. Davis, who has federally-funded research in this area, is recognized as the country's leading researcher of transition age youth and emerging adults with serious mental health conditions. Davis will guide Zajac in developing research papers and grant applications related to co-occurring mental health and substance use disorders in transition age youth.

The fellowship program was established to honor John R. Raymond, M.D., former provost and vice president of academic affairs from 2003 to 2010.

Raymond is president and CEO of the Medical College of Wisconsin in Milwaukee. An advocate to recognize women faculty on campus, Raymond created MUSC's Women Scholars Initiative to promote gender equity and promote women faculty excellence.