East Cooper patients, visitors and staff will have the convenience of a comprehensive clinic that's backed by expertise of the state's only academic medical center, according to Amy Campbell, M.D., assistant professor of radiology.

"Our goal is to provide excellent patient care by coordinating our multidisciplinary breast team to make this happen. We are changing what's possible by providing this level of quality patient care."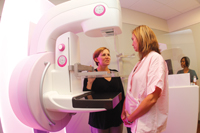 Radiologist and breast imaging specialist Dr. Rebecca Leddy, left, explains the advantages of the Siemens digital mammography unit to a patient. Tiffany Griles, back right, prepares the equipment. The unit features mood lighting, greater image quality and comfortable compression.

One medical specialty that's especially welcome is MUSC Department of Radiology's Comprehensive Breast Imaging Service. The service brings together a large multidisciplinary breast program featuring radiologists, breast surgeons, medical and radiation oncologists and pathologists to provide patients with world-class clinical care.

The goal is to offer patients an array of breast imaging services including screening and diagnostic mammography, ultrasound guided breast biopsy, breast ultrasound, stereotactic breast biopsy capabilities, concluding with accurate same-day results. This service features the latest Siemens imaging equipment including full field digital mammography units, and other related equipment.

The program is comprised of a team of breast imaging specialists, including Campbell; Abid Irshad, M.D.; Susan Ackerman, M.D.; Abbie Cluver, M.D.; Rebecca Leddy, M.D.; and Madeline Lewis, M.D. The breast imaging service will be available four days a week (Mondays through Thursdays). Imaging for interventional, neurointerventional and pediatric radiology services and screenings will occur during weekdays.

This positive anticipation was similarly experienced by patients at the start of mammography services at MUSC Specialty Care North, according to Campbell, who came to MUSC in 2008.

"Our North Charleston patients were genuinely happy with our presence in the neighborhood backed by the expertise from our downtown facility. I feel our Mount Pleasant patients will quickly feel good about what we have to offer at MUSC Health East Cooper," said Campbell.

In addition to providing top patient care, the team plans to conduct clinical research and possibly branching out to evaluating the efficacy of 3D breast tomosynthesis to enhance breast cancer detection. Additionally, physicians and staff are committed to improving education and promoting their services to referring East Cooper physicians as well as continued improvements in patient education. For information or to schedule an appointment, call 792-1414.