The Department of Radiology and Radiology Science has acquired a new Siemens Skyra 3 Tesla MRI Scanner giving radiology specialists a more expanded image to view and advanced diagnostic capability while allowing patients to enjoy a more comfortable scan experience. The high-field scanner can diagnose a broad range of medical conditions including heart and vascular disease, stroke, cancer, joint, musculoskeletal and neurological disorders.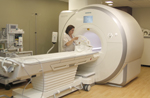 Radiology technologist Linda Hamner adjusts the head rest in the new Tesla MRI scanner. For more information on the scanner, call 792-8862.

The large bore magnet system, which was installed in early July, has twice the magnetic field strength of other current scanners in the U.S. It features a 70 cm bore opening, which is larger than conventional devices and roomier to accommodate a variety of body sizes, shapes and conditions. The combination of the magnet and a shorter access platform allows for many studies to be completed with the patient's head outside the bore reducing a claustrophobic experience or anxiety.

Magnetic Resonance Imaging has been widely used as the most non-invasive diagnostic technique to examine images of bone, muscle, soft tissues and organs and fat to diagnose a variety of health conditions and disease.
As of July 23, MUSC began providing inpatients with 3T scanning, general anesthesia and pediatric sedation within a hospital setting, which earlier, was only available as an outpatient service.

To schedule an outpatient appointment, contact Radiology scheduling at 792-9729.