The MUSC Healthy Charleston Challenge, a 12-week fitness and weight loss program, will begin in September. The challenge is designed to increase physical activity, provide professional guidance and accountability for developing healthy lifestyle habits. Collectively, participants have lost more than 19,800 pounds, improved blood lipid profiles, improved fitness levels, and reduced risk factors for chronic disease. The challenge was named the third best program innovation for chronic disease prevention and obesity in the U.S. by the Medical Fitness Association.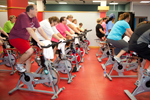 Healthy Charleston Challenge participants spin during a scheduled class. To register for the Fall challenge, visit www.musc.edu/hsc.

The program, located at the MUSC Wellness Center, creates social support and a friendly competition with participants divided into teams. Each team has a personal trainer to help them achieve permanent lifestyle changes. Weekly education meetings include current researched nutrition with the program nutritionist (registered dietitian), food log review, behavior change strategies with the team psychologist (program clinical psychologist), and various exercise physiology presentations with exercise specialists experienced in exercise, weight loss, and lifestyle management necessary to receive optimal results. Teams compete against each other, creating a "biggest loser" type camaraderie plus the accountability needed for a fun and motivating program.

The staff for the Charleston challenge are currently recruiting to create several teams of MUSC employees. Groups of employees can form their own team, or applicants can be placed on a team by the program staff. Application deadline for the September session is Aug. 13. The application and additional information is online at www.musc.edu/hsc.
Participants should be 30 pounds or more overweight and in need of permanently changing lifestyle habits for decreased risk of chronic disease.

The following is a statement from a successful challenge graduate:

"The Healthy Charleston Challenge opened up a new doorway to becoming who I was created to be. It educated me in such a way nutritionally, gave me intense exposure to training and exercise and gave me team accountability that have lead to success and incredible friendships to this day. The challenge empowered me to realize that there was more inside of me and to make a life style change. When I began the challenge, I could not climb a flight a stairs without being winded. Heck, let's get real, I could not even bend over and tie my shoe much less run a mile. I am proud to say that, as of today, I have completed a full marathon (that's 26.2 miles) and I am training to become a Tae Bo instructor. It's been almost three years since I started my journey to become a happy, healthy, fit, strong, unstoppable me and I have not gained one pound but rather am moving forward in my journey!

Employee Wellness events

Zumba at Harborview Office Tower (HOT): Join licensed Zumba instructor Felecia Curry for a weekly Wednesday night Zumba class held from 5 - 6 p.m., Room 910 HOT. Zumba is a dance-based aerobic exercise class and Curry tailors the workout to accommodate any fitness level. Space is limited. To register or for more information, email curryf@musc.edu or call 822-6136.

MUSC Urban Farm: Family Workday will be held from 9 – 11 a.m. at the MUSC Urban Farm. Sessions will focus on organic methods for weed control in the garden. Bring a plastic bag and take home some fresh produce in return for work efforts on the farm. Planned tasks include weeding, pulling crops that are no longer producing and cleaning up beds to prepare for the next season. Okra, eggplant, beans, culinary herbs, peppers, and squash should be ready for harvest. Bring water, sunscreen and wear closed toe shoes. Email musc-empwell@musc.edu to register.

Farmers Market: Fresh fruits and vegetables are available from local farmers from 7 a.m. to 3:30 p.m. every Friday in the Horseshoe and in the area next to Ashley River Tower.

Contact Susan Johnson, Ph.D., at johnsusa@musc.edu for information on the Office of Health Promotion at MUSC and Suzan Benenson Whelan at whela@musc.edu for specific information about employee wellness.