The Charleston Area Regional Transportation Authority (CARTA) announced the expansion of its bus route with service to Summerville. The Dorchester Road Express is the newest addition to CARTA Express commuter services.

The new stop, located at the Park & Ride lot at Dorchester Village Shopping Center (corner of Dorchester and Trolley road), provides a consistent connection to the CARTA system for Summerville area residents. The express service will run during the week (every half-hour) from 5:15 to 9:46 a.m. and 3:07 to 7:39 p.m.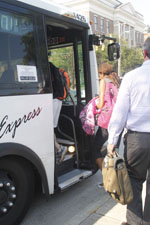 CARTA passengers take advantage of the new Summerville stop from downtown Charleston.

The service, effective June 20, is a limited stop service that runs weekdays during peak drive times, mornings and afternoons, commuting from Summerville to downtown Charleston with multiple stops including MUSC.

The service will initiate from Summerville and pick up passengers in North Charleston with stops at Robert Bosch Corp., the Boeing South Carolina plant, and continue to downtown Charleston with stops at Meeting and Columbus streets (Piggly Wiggly), Meeting and John streets (Charleston Visitors Center), Calhoun and St. Phillip streets (College of Charleston) and Calhoun and Jonathan Lucas streets (MUSC).

The new express route is included in MUSC's free CARTA program. MUSC employees and students, using their university ID badge can ride any regularly scheduled CARTA route seven days a week.

For information about CARTA and CARTA Express, visit http://www.ridecarta.com.