by Cindy Abole
Public Relations

A team of dental students, who presented their research projects on campus in February, got a second chance to discuss their findings with statewide dentists and dental practitioners.

Nine rising fourth-year dental students were invited to the South Carolina Dental Association's (SCDA) 143rd Annual Session in Myrtle Beach, May 3-6. Students, working individually or in teams of two, competed Feb. 23 at the second annual James B. Edwards College of Dental Medicine (CDM) Scholars Day at MUSC. The program featured student and post-doc-level posters and research results from a variety of dental, oral and craniofacial research. Awards were presented in four categories that awarded top winners an invite to present at a national dental and dental research meeting. Honorable mention entries were invited to present posters at the SCDA meeting.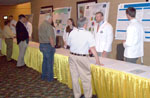 Third-year dental students present results from their research at the South Carolina Dental Association annual meeting in Myrtle Beach.

The research poster session was held during a May 4 luncheon at the Embassy Suites Kingston Plantation Hotel
Dental student Paul R. Lambert III relishes any opportunity to talk about the research work he and co-student Brandon Hagan collaborated on about a new dental hearing aid as an option for people suffering from hearing loss. The removable device is revolutionary and works with bone conduction to transmit sound. The Soundbite device is fixed to a molar in the upper jaw. According to Lambert, the device and technology is already well-known in the ear, nose and throat medical community. Lambert and Hagan first presented this research at the Dental Medicine Scholar's Day and were invited to present again in Myrtle Beach.

Lambert, who is experienced at presenting on a national level, was excited to address this statewide audience whom he regards as his future peers.

"Dentists are so busy that they don't have extra time to stay up-to-date on research. Our presentations offered a snapshot of research ideas that are on the horizon. It allowed practitioners to stop, talk and ask questions."
Lambert also praised the experience, which allowed for valuable networking time with practitioners.

"I met with dentists and specialists who could work on tooth modifications and prep work for this device and others who said they knew of a patient who could benefit from this type of dental hearing system."

Lambert hopes other dental students will take up the mantle that he and Hagan left behind. Other students now have an opportunity to write an abstract on Lambert and Hagan's findings and submit it for future publication.

"MUSC provides so many great opportunities for students to challenge themselves and excel. It's up to students to take advantage of this and be dedicated to work hard to get the best results," Lambert said.

Joe Vuthiganon, DMD, CDM instructor and CDM Scholar's Day student coordinator, was happy to organize and support the dental student's participation in this professional venue.

"Our dental scholar's day event was so successful that we wanted to invite our dental students to communicate their research work to statewide dental professionals. Everyone's efforts were both important and meaningful. I feel it allowed others to appreciate the research side of dentistry."
CDM students participating at the annual meeting
Carson Hund, Amber Houston, Kathryn Harrison, Paul R. Lambert III, Brandon Hagan, K. Bryan Wingate Jr., Jeanette S. Wingate, Scott Brown and Jonathan Puza.