Some of South Carolina's brightest high school minds converged on MUSC's campus for six weeks this summer to collaborate and expand their experiences while conducting biomedical research.

A total of 14 junior students from the S.C. Governor's School for Science and Mathematics (GSSM) participated in MUSC's Summer Program for Research Interns (SPRI).

GSSM requires its students to complete a summer research project prior to the start of their senior year. Students choose from research-oriented programs at MUSC, College of Charleston, Furman University, Clemson University and the University of South Carolina as well as at corporate research centers throughout the state. Participants may live at home or participate in a live-in dormitory at the College of Charleston, coordinated by the College of Graduate Studies Dean's Office, while working at MUSC. At the end of the program, participants present their research summaries at the host institution, at the school's colloquium and each spring at the S.C. Junior Academy of Science before a panel of judges.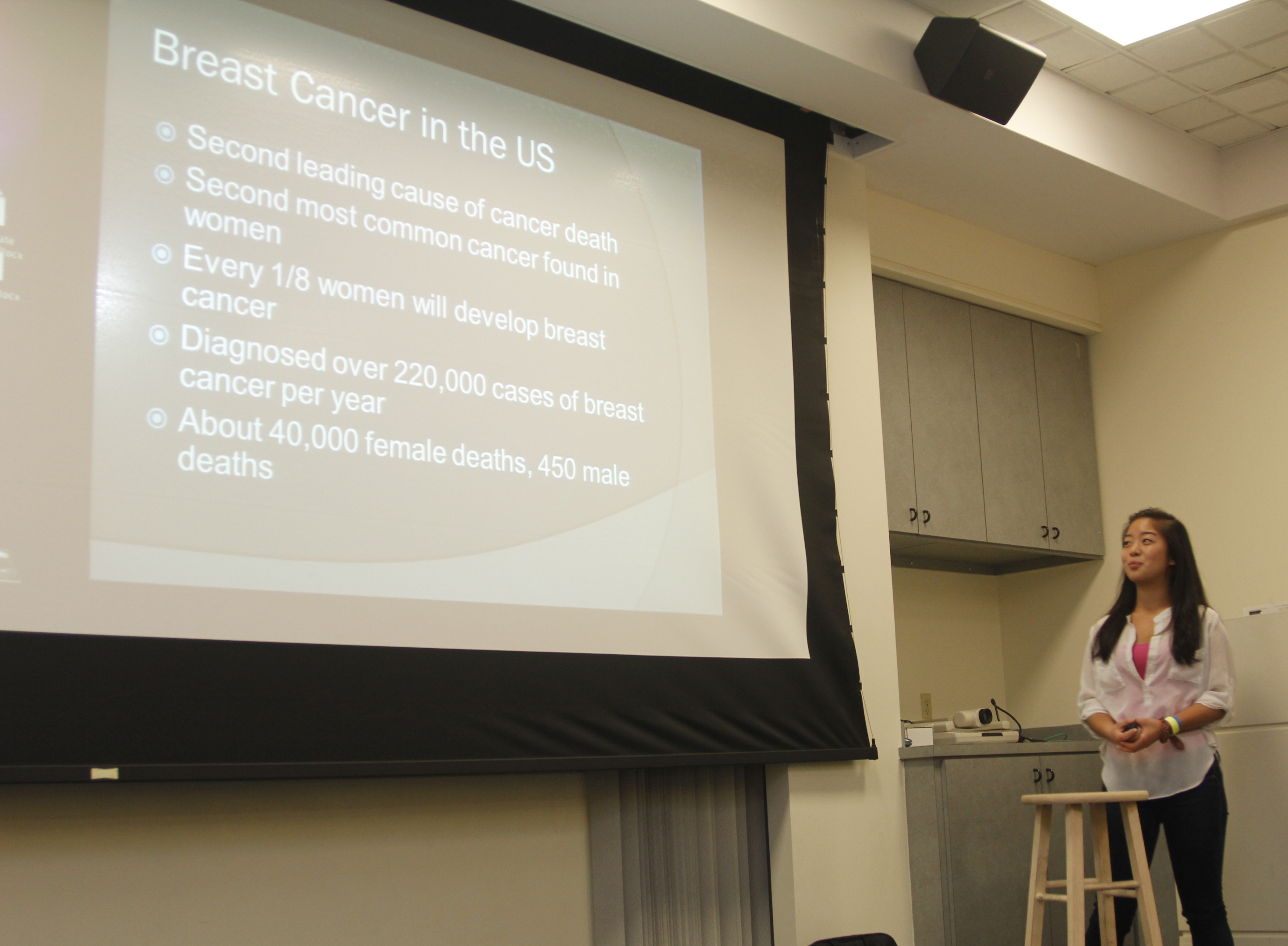 Governor's School student Rachel Chen explains her summer research working in the lab of Pharmaceutical Sciences' Dr. Patrick Woster.

Sponsoring College of Graduate Studies Dean Perry V. Halushka, M.D., Ph.D., has supported this research intensive program since early 2000. It is among several of the college's summer research program experiences offered to students from high school to graduate-level participants. Other long-term programs include the Summer Undergraduate Research Program for undergraduate students and the Summer Health Professionals Research Program targeting medical, dental and health profession students who are interested in clinical research.

At the July 20 closing event and final research presentations, Halushka thanked parents, faculty, sponsoring mentors and staff.

"You've raised bright, enthusiastic and hard working students, and I commend you for your parenting success in preparing these young men and women to be able to attend a fine school as with the Governor's School. These students have given up most their summer to work and learn from our faculty. I hope that this program, combined with your school's internship program, has helped ignite a passion for research that's exciting to those who choose to move forward in biomedical research."

GSSM outreach and research director Randy LaCross is in his ninth year coordinating research experiences for Governor's School students. He also praised students and the partnership with MUSC. Students stayed in one of the College of Charleston dormitories while conducting their research on MUSC's campus. "This continues to be a phenomenal partnership and experience for our students. The interaction with scientists and research staff deepens a student's knowledge, confidence and understanding relating to the nature of science, data collection and scientific research in a professional environment. I'm very proud of their efforts," LaCross said.

One Charleston area student who gained a lot during her six-week experience was Ashani Ranwala, 17. Last summer, Ashani wasn't sure what part of the medical field or scientific research she wanted so she volunteered to work with patients and staff through MUSC's junior volunteer program. This year, Ashani worked in the lab of Ken Tew, Ph.D., professor and chair in the Department of Cell and Molecular Pharmacology and Experimental Therapeutics, to get her research experience. She is the daughter of Dayan Ranwala, Ph.D., SCTR Institute, and has an interest in medicine and cancer therapeutics. This spring, Ashani connected with Tew, who is program leader in Hollings Cancer Center's Developmental Cancer Therapeutics Program and serves as the John C. West Endowed Chair of Cancer Research.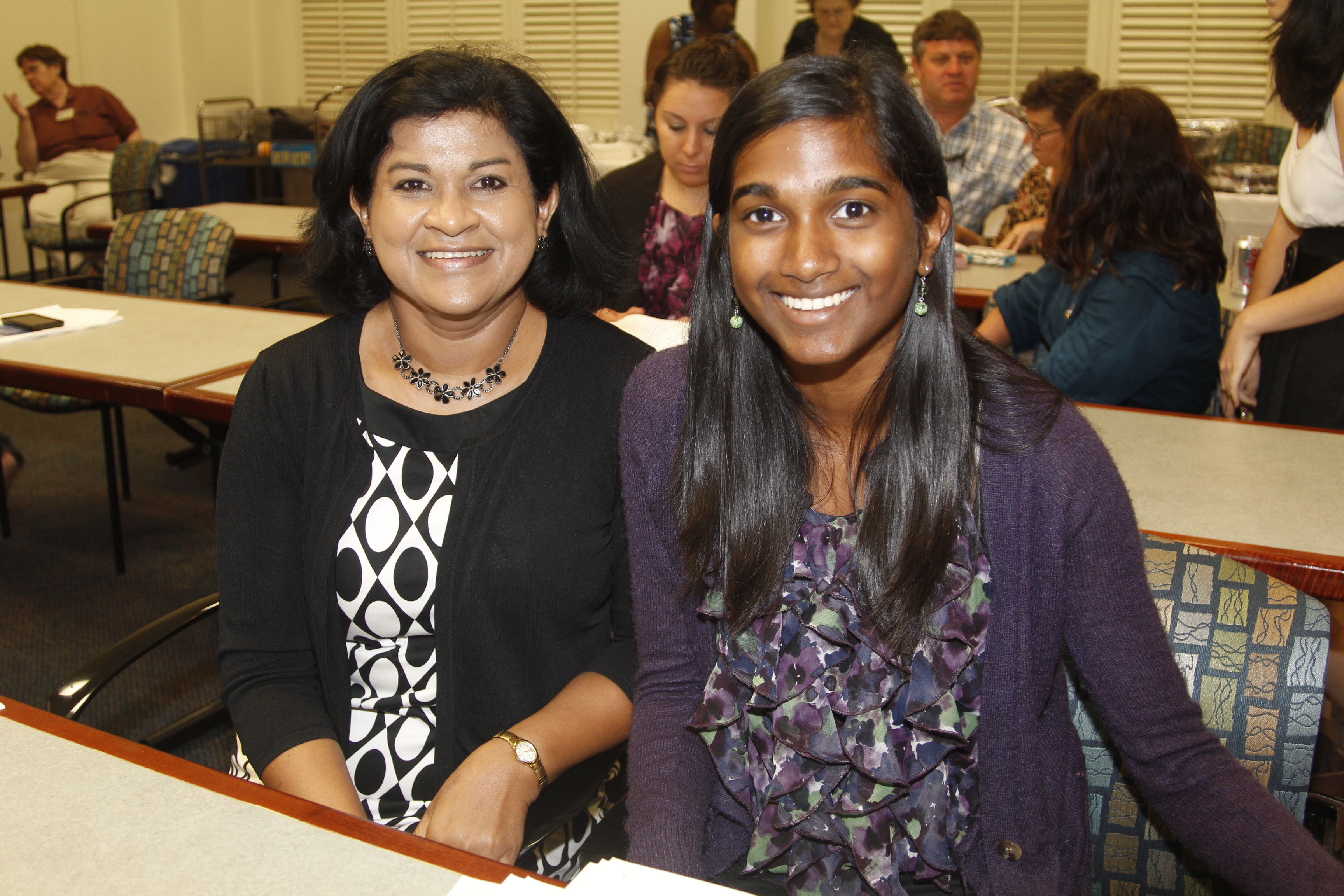 Charleston Governor's School student Ashani Ranwala, right, and mom, Dr. Dayan Ranwala, enjoy a break prior to her July 20 research presentation with SPRI participants.
Throughout this six-week program, Ashani shadowed under post-doctoral fellow Christina L. Grek, Ph.D., who introduced Ashani to their team's research and taught her lab protocols. In turn, Ashani wrote summary reports and supplemental readings, conducted lab experiments working with protein gels, analyzed data and attended and observed weekly lab meetings.

"It was exciting to work in this lab environment. I learned a lot," she said. "At school, our experiments are more controlled to help teach a concept. But at MUSC, this is real science where you can't predict the outcome and one doesn't always get perfect results. Everyone took their time to help me learn and feel included."

Ashani's research supplemented work already conducted by Grek in Tew's lab. Her research focused on oxidative stress and how it can modify proteins. More specifically, she collaborated on Grek's pilot study evaluating how hydrogen peroxide in mouthwash can change and modify proteins in cheek cells. This study of biomarker changes can help researchers develop more effective drugs to combat cancer. Ashani, who eventually wants to be an oncology physician, asked to continue with her research work until Aug. 3.

"I'm grateful for this opportunity and experience and want to thank Dr. Tew, his research team, Dr. Halushka, Debbie Shoemaker, Mr. LaCross and others for giving me this valuable experience."