by Dawn Brazell
Public Relations
Twenty-seven years ago, John Sanders would go to the top of Rutledge Tower, back in the day when it was St. Francis Hospital, to take pictures of the new MUSC Children's Hospital.

Sanders remembers being excited seeing Marie Osmond come for the opening. It's an excitement he still feels as MUSC Children's Hospital celebrates its 25th birthday Aug. 9.

"Over the years, programs we have developed have become leaders in the industry. The staff and physicians here are incredible and are so dedicated to the children. We have also seen the patient satisfaction by our families increase over the years to be one of the leaders in the nation."

Sanders, who left MUSC to work in Cincinnati and Delaware, returned nine years ago as the administrator of the Children's Hospital. Looking back, he's amazed how the hospital has grown. An important change occurred when the Children's Emergency Department became a separate entity.

"That changed the dynamics of the hospital. At one point 10 percent of our admissions came from the Emergency Department and now more than 35 percent come from there. We are also reaching out to the community to provide services at our After Hours Care Program," he said of the clinic that opened in North Charleston in July and the East Cooper site opening this fall.

When the Children's Hospital was completed in 1987, it focused primarily on children with very difficult illnesses or injuries. It still offers expertise service, but its reputation has grown to encompass a comprehensive level of pediatric care.

"Today, the MUSC Children's Hospital is truly the community's Children's Hospital. We have good collaboration with other facilities who now recognize that we are able to provide a unique service specific to kids."

This is an important birthday milestone. The MUSC Children's Hospital has ranked very well against some of the most famous facilities over the years through Child Magazine, Parent Magazine and U.S. News & World Report, he said.

"In some ways 25 years is not that long, but if you look at how the hospital has grown and how it is viewed nationally, it is amazing. Over the years we have recruited some of the most talented physicians and staff in the world. We have programs that provide the most progressive models of care. We have outcomes that are simply excellent."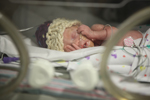 Ella Nora Evans, born June 30 at 28 weeks, weighed just 2 pounds, 9 ounces.

That reputation has and is attracting quality faculty, a factor pleasing to Rita M. Ryan, M.D., chair of the Department of Pediatrics. It makes her job of recruiting and reaching out to the community much easier.

"We want the community to understand how important it is for surgical procedures on children to be performed at the Children's Hospital. It is not only the pediatric surgical subspecialist who is here, it is also pediatric anesthesiologists, pediatric radiologists, pediatric respiratory therapists, pediatric nurses, pediatric pharmacists, pediatric nutritionists, and of course, our child life specialists, who are there for our patients on all floors, including in the pediatric emergency room, to help."
Dr. Rita M. Ryan checks on newborn, Ella Nora Evans, in the fifth floor special care nursery.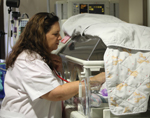 Given the impressive roster of new faculty coming on board, the quality of services at the Children's Hospital will just continue to get better, she said. The following are a few of the new additions.

A new pulmonologist, Maria Riva, M.D., joins the staff in January 2013, specializing in pediatric sleep medicine, an area of dire need for children with disabilities who often suffer from sleep problems and for children with craniofascial issues and airway abnormalities.

Genetic services are being expanded with the recruitment of two new faculty members in an area that will see rapid growth. "I think applied genomics is going to be big in the future. We've been waiting for the 'big win' for discovering a gene for a specific disease and those things are happening, but the biggest wins recently have been in how one person responds to a specific drug versus another," Ryan said.

MUSC is opening a new Pediatric Therapeutic Endoscopy Unit, bringing the latest in treatment options. She describes the new division chief of pediatric gastroenterology, Jose Antonio Quiros Giron, M.D., as a dynamo. The doctor, who comes from San Francisco, Calif., brings with him a highly-skilled endoscopy expertise and he has plans to host a gastrointestinal conference here, that he's been running for the past five years.

Amy-Lee Bredlau, M.D., just joined the staff in hematology oncology. She specializes in pediatric brain tumors and will be working closely with Steven Glazier, M.D., running a pediatric brain tumor clinic.

Pediatric nephrologist – Katherine Twombley, M.D., who specializes in pediatric kidney transplants, just joined MUSC.

David Bundy, patient quality and safety officer for pediatrics, just started. "He'll be a game changer. We're very committed to patient safety and quality outcomes. It's very important. We want to be the best. We want to have the safest children's hospital in South Carolina. That's how this guy thinks. He's a broad thinker."

It's not just new faculty members joining the Children's Hospital that she's excited about, though.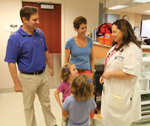 Dr. Rita M. Ryan, right, with the Loyd family, Don, Kelly, Gracie (in pink) and Annie.
She praises the existing hospital's pediatric cardiology and cardiac surgery team, as well as the current hematology-oncology service. "We still have the lowest mortality post-operatively for neonatal cardiac surgery in the country," said Ryan, who became chair in July 2011. "Our pediatric bone marrow transplantation team is excellent. We have overall outstanding clinical services. It's one of the reasons why I came here. I didn't have to fix any major clinical services. They are all top-notch."

One direction she likes to see the hospital heading is in telemedicine. David S. McSwain, M.D., recently received a Duke Endowment grant that will enable specialists at the Children's Hospital to share their expertise with the community via telemedicine carts. This is an important move that also will open the door to ways to provide more access in rural areas, she said.

"It's fantastic about the Duke Endowment grant. They're trying to improve care for those who are away from the 'mecca' of medicine and need subspecialty expertise and also trying to improve care for kids who don't have good access to medical care in general, for example, in more rural areas. For both of those things, it's exciting."

Another good change is a shift to wellness and prevention. MUSC is home to The Boeing Center for Children's Wellness' Lean Team, led by Janice Key, M.D., chief of adolescent medicine. The group is making important strides in the community in preventative health.

"This is a game changer for the Charleston County School district. They have made incredible strides in educating people in the school district about what is better for children. They have eliminated all fat fryers from every school. All the schools serve only low-fat dressing and only whole wheat bread, even in the pizza crust, and they offer salads daily. Dr. Key has spearheaded this, and she has done a great job."

Sanders said MUSC Children's Hospital certainly has come a long way since Marie Osmond walked the grounds. It will be exciting to see the new era that's coming.

"We hope that going forward we will be looking at a new facility for our hospital that will provide an atmosphere that can provide even better outcomes for our patients and families. We continue to recruit the best and brightest and will strive to be the best in the industry. We do that because we want to be the best, and the children of this community deserve it."
Destination Programs: Children's Hospital
--Cardiology and Cardiac Surgery
--Bone Marrow Transplantation
--Kidney, Liver and Heart Transplantation
--Congenital Airway Problems (Pediatric ENT and Cardiothoracic Surgery)
--Cochlear Implant Program (Pediatric ENT)
--Voiding Dysfunction Program (Pediatric Urology)
--Pediatric Epilepsy Center (Neurology and Neurosurgery)
--Pediatric GI
--Pediatric Hypertension (Pediatric Nephrology)
--Pediatric Kidney Stones (Pediatric Nephrology)
--Pediatric Trauma
--Center for Complex Limb Deformities
(Orthopaedic Surgery)
--Pediatric Burn Center
--Pectus Surgical Center
--Regional Perinatal Center (combination of OB/Maternal-Fetal –Medicine and Neonatology
--Pediatric Minimally Invasive Surgery Center
--Craniofacial Center (ENT)
--Pediatric Spine Center (Orthopaedic Surgery)
--Craniosynostosis (Pediatric Neurosurgery)