by Dawn Brazell
Public Relations
It takes a village to raise a child.

It also takes a village to treat them.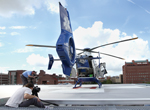 Daniel Spillane and James Monk (sitting) film a helicopter once landed. MUSC has a dedicated pediatric transport team.

That's what the MUSC Children's Hospital's latest video, celebrating its 25th birthday this week, shows. From a helicopter landing with its dedicated pediatric flight team of specialists to nurses caring for tiny, premature babies struggling to get a purchase on life, this video features almost 100 people, including doctors, nurses, staff and patients, who all have their own slice of the story to tell.

Featuring music star Darius Rucker's song, "This," the video was released Aug. 9. Meredith Strehle, manager of business development for the Children's Hospital, and her administrative intern Janna Cone coordinated the special events and video filming.

There was a celebration Aug. 9 in the Child Life Atrium. Deb Oliver, a licensed practical nurse in the Rutledge Tower Pediatric Clinic who has been at MUSC for 35 years, sang an a cappella birthday song followed by addresses from administrators and from U.S. Rep. Tim Scott. There were birthday cupcakes donated by Bi-Lo, and a special birthday banner is currently on display on the President Street garage.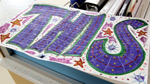 Patient Skylar Byars, 6, designed this poster above to be used in the video. At right are nurses who put together a choreography for the song's chorus.
There also was a Hollywood red carpet theme for the event. Children's Hospital units and clinics competed to design the top stars to adorn the carpet, with the Children's Neurology Clinic taking top prize. The clinic will receive a birthday party.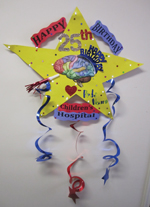 The Children's Hospital's Neurology Clinic won the star contest with this design that sports a battery-powered light feature.

Strehle said the events and the video capture the fun, caring spirit of employees that makes the Children's Hospital so special. She found Rucker's song, "This," and as she listened to the words thought it captured the way some of the families and patients may feel.
The video is based on singer Darius Rucker's song, "This." To see the video, visit http://tagr.com/t/V3wR6.
The video includes footage of MUSC's pediatric flight team simulating a patient transport. Right, Mark Daniell, pediatric flight nurse, rolls an isolette, which creates a mini ICU for babies. "No matter how good the surgeon is," said Daniell, "until the patient gets here, they can't be helped."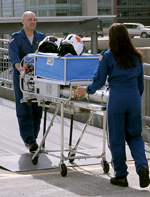 "Life takes turns sometimes that you don't expect, but it leads people here to the Children's Hospital where we can make a positive impact on their lives."

The video also is a way to do something that is all about the children and to use the talents of local resident Rucker, who is a strong supporter of the hospital.

"We wanted the video to be about the kids, families, faculty and staff and to highlight everything they do and have done to bring us to the 25th birthday celebration. Our hope is the video will go viral, and share the story and great happenings here with the world. We hope this video will be shared by the Children Hospital's staff and physicians and others as a way of being proud of the last 25 years and as a wish for the next 25 years," Strehle said.

The video took two months of planning with videographers, Daniel Spillane of Business Development and Marketing Services, and James Monk, doing three days of filming. It also took cooperation from staff and patients.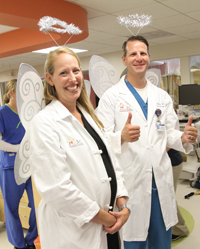 Drs. Olivia Titus and Chris Streck put on their angel wings to enter the Bradleys' room as part of the video.

"It is fun to see staff and physicians cut loose and have fun filming," said Strehle. "It shows their dedication to the Children's Hospital and doing anything for the kids. It takes a special personality and spirit to specialize and work with children. I think this video displays that spirit."

Kathy Kurowski, R.N., and other nurses on 7 East, were happy to participate, bringing out their decorated IV poles that they take into patients' rooms on occasion to do a song and dance. "The Perfect Divas," as they are known, enjoy dressing up and dancing to entertain patients. The group is so good, they do their performances totally improv. The acts vary from Christmas in July to a kitty cat theme, complete with a 'Kitty Litter' cake.

"When patients have been here awhile, we go in and sing to cheer them up. It's team building, and it helps everybody have a good time."

The video gave them a chance to show off that spirit. It also lets patients get into the act.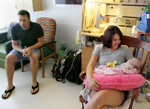 Josh and Ashley Bradley watch as their daughter, Kirby, born April 10, gets stronger. Born with a heart condition, their daughter has not been able to leave the hospital yet to return to her home in Spartanburg.

Ashley and Josh Bradley of Spartanburg, said they were glad to participate. Their daughter, Kirby, was born at 39 weeks with a heart condition, atrioventricular septal defect complete, that required her to remain in the hospital for several months for a series of procedures.

Josh good-naturedly shrugs. They found out after his wife's first ultrasound that their daughter would need surgery and had prepared for the long hospital stay. "It is what it is. You just deal with it. It's been amazing to see how tough she is. She's a fighter."

They look forward to when they can bring their daughter home, but for now the Children's Hospital is home.

"It doesn't bother us to be in the spotlight a bit," he said, his wife adding that it's a way to let others know what MUSC's Children's Hospital has to offer.

Don and Kelly Loyd agree. They brought in their twin girls, Annie and Gracie, 4, for filming and to visit staff who they got to know so well when their twins arrived pre-term at 28 weeks. Gracie weighed 3 pounds, and Annie, 2 pounds 12 ounces.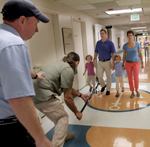 The Loyd family good-naturedly walks down a hallway in the Children's Hospital numerous times for the video filming by Daniel Spillane (far left) and James Monk. The family from left, is Gracie, Don, Annie and Kelly.

"Gracie was in pretty bad shape," Kelly said. "She was intubated at birth. Annie needed a little help. She was a tall, skinny thing. They called her a spitfire."

It would be 77 days before Gracie was well enough to go home. It was a long haul, said Kelly, who now serves on the Family Advisory Council. She said she realizes what a treasure the Children's Hospital is, and she enjoys being active on the council. Their stay gave her an insider's view of the Children's Hospital, and she knows the care they received is part of the miracle of her daughters being alive and doing so well.

"It was luck, and it was the top to bottom care and caring that we received from everyone. It wasn't just the doctors and nurses, but also the pharmacists, respiratory therapists and many others as well as the strong will of these two little girls. We're excited to do anything we can to help MUSC."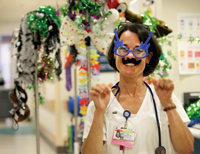 Nurse Kathy Kurowski shows off part of one of her costumes that "The Perfect Divas" use. Nurses on her unit, 7 East, decorate IV poles and use music and dance to cheer up patients. They enjoyed helping with the video.

Kelly said parents don't realize the specialized services the Children's Hospital has until they have to use it. "Any way we can put a face to what's here, we want to do it. We know how lucky we are to have it in our backyard."