by Caroline Altman
Public Relations
Some say Joey Benton is the poster child for MUSC's Children's Hospital.

That's because his face has graced hospital walls and roadside billboards to sell Children's Hospital license plates. The hospital gets $42 of the $50 cost of each plate sold, raising funds distributed through the MUSC Volunteer Advisory Committee. Joey, who recently went to Washington, D.C., to represent MUSC's Children's Hospital, continues to work to improve children's health care.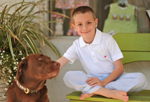 Joey Benton has promoted the license plates since he was 5 years old, and continues to promote children's health care on local and national levels. To download the application, visit http://www.scdmvonline.com/DMVNew/forms.aspx under MV-95.

Joey, nicknamed "Peanut," is a 9-year-old soccer player with cystic fibrosis (CF). He enjoys playing with his friends and computer games. His favorite book is "Diary of a Wimpy Kid," and he is a fan of the movie "Ferris Bueller's Day Off."

After being born at a normal birth weight, Peanut never grew. At 6-weeks-old, he was diagnosed with CF. From that point on, his parents knew they were going to support CF research. His mother, Caroline Benton, said, "We've always known that we had to do our part for Joey's future."

Since then, Peanut has helped other children with illnesses. At 5 years old, he became the face of the license plate fundraiser. During visits to the Children's Hospital his father, also named Joey Benton, said it was comical revisiting Peanut's photograph as his son became almost unrecognizable after losing his Eddie Munster haircut and growing for four years.

Several doctors and nurses still recognize Peanut as the license plate cover boy when he visits the hospital. To Benton, being a celebrity in the hospital was a gift to his son, a child who has gone through so much. "It was neat driving down I-26 and seeing him smiling back at us."

During Peanut's recent visit to Washington, he shared the importance of children's health care with congressional delegates of the Senate and House. Benton said Peanut had the chance of a lifetime when he got a rare honor to be on the speaker's balcony and share the importance of health care for children nationwide.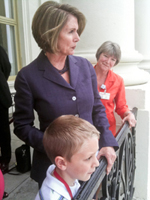 Joey "Peanut" Benton shared the importance of children's health care with Nancy Pelosi, former speaker of the House of Representatives, and Pat Votava, MUSC Children's Hospital director of government relations and grants.

Caroline Benton said, "The average life expectancy when Joey was born was 32. Now it's 38, and I believe we're very close to that number skyrocketing."