by Cindy Abole
Public Relations
Seven years ago when the doors opened at the Charles P. Darby Children's Research Institute, the MUSC community celebrated the science and medical knowledge gained through the Department of Pediatrics. They also were anxious for new translational research discoveries and the potential for preventing and improving childhood diseases.

When Lowcountry pediatrician and then Department of Pediatrics chairman Charles P. Darby Jr., M.D., founded the Children's Hospital in 1987, he shared a vision to improve children's health care in South Carolina. An important part of this vision included a plan to enhance research and discovery. To do this, Darby and Children's Hospital leadership focused on recruiting talented physicians, scientists and health care professionals who could work collaboratively under one facility.

Before the institute existed, pediatric research was more dispersed between Children's Hospital pediatric programs and basic science departments throughout the university. Research was conducted in pediatric cardiology, endrocrinology, hematology/oncology and neonatology-perinatology and developmental pediatrics.

Darby's vision still resonates within the institute and across campus. Today, more than 150 investigators and staff work in high tech laboratory modules and research programs within South Carolina's largest, most comprehensive pediatric research facility. Investigators have received National Institutes of Health (NIH) translational funding for basic and translational research in areas including cancer, blood disorders, congenital heart disease, multiple sclerosis, AIDS and immunological diseases, genetic disorders, diabetes, pulmonary disease, learning disabilities and more.

The institute's scientific director and pediatric developmental neurogenetics director Inderjit Singh, Ph.D., is proud of the progress made by Children's Hospital clinicians and scientists in bridging the translational gap on campus and collaboration across the state.

"We've been successful in taking basic science activities into translational science and conducting clinical research. Our goal is to provide institutional support for faculty-initiated research, facilitate more interactions between basic and clinical scientists and build a supportive infrastructure for guiding clinical translational research projects toward preclinical and human translational research trials."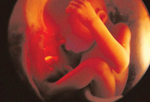 The Children's Hospital has been involved in many translational research discoveries including the study of neuroprotective agents in the brains of preterm babies.

According to Singh, pediatric research collaborations on campus continue to flourish. Discoveries from research on childhood diseases have already progressed to clinical trials and beyond. Some research studies are on track for further development in the production of new FDA-approved drugs, therapies and clinical interventions.

In 2011, Robert Gourdie, Ph.D., a professor in cell biology and regenerative medicine, successfully received two patents for the development and commercialization of a wound-healing, scar-reducing peptide gel.

Gourdie's team developed this product from studying electronic signaling within heart muscles. They found that the peptide gel decreased scar tissue and healed wounds faster in laboratory animals. Their work led to Gourdie's collaboration with First String, a biotech developer. The spin-off biotech company supports regenerative medicine technology. The gel has further uses for spinal cord injury patients and macular degeneration.

Translational scientist Bruce Hollis, Ph.D., and neonatologist Carol Wagner, M.D., have made great progress in their studies with vitamin D in human milk and pregnancy.

In the last decade, Hollis and Wagner have discovered how the body produces vitamin D when it is exposed to sunlight deficiency and how it affects the body's cell function and immunity. They conducted two NIH-supported pilot studies as well as large-scale studies, incorporating 700 subjects each, and gave randomized vitamin D supplements to pregnant and lactating women. They concluded that women, especially during pregnancy, should take 4,000 IUs (international units) of vitamin D daily to improve pregnancy outcomes.

Dr. Inderjit Singh
Singh's study of adrenoleukodystrophy led to the discovery of statin drugs for patients with multiple sclerosis. In other research, Singh, also working with neonatologist Doe Jenkins, M.D., studied the effects of N-acetyl cysteine and its protective properties in the developing brain of unborn babies. In clinical trials, Jenkins administered medicine to mothers with fevers prior to birth. Their breakthrough work provided preventative treatment for cerebral palsy.
In addition, researchers and clinicians also support scientific and analytical work with MUSC's Proteomics and Lipidomic centers.

Looking ahead, Singh hopes to continue the team's research focus on pediatric cancers, childhood obesity, nutrition, inflammation and genetic disorders.

According to Singh, with the growing prevalence of Alzheimer's disease and stroke in adults, he would like to see more scientists focus on understanding the factors that cause these diseases in early development.

Singh, Department of Pediatrics Chairman Rita Ryan, M.D., and Children's Hospital leadership are in the process of recruiting the institute's next executive director. Pediatric leaders will continue to make strategic new recruitments of translational scientists. Plans are being developed to enhance fellowship training and educational programs to boost research productivity across all disciplines.