by Dawn Brazell
Public Relations
Everyone agrees. Monkey is a terrible name for the toy animal, especially one with the misfortune of having an IV permanently attached to his wrist.

Jennifer Redfern, senior child life specialist with MUSC's Children's Hospital, turns to 9-year-old Elizabeth Brown who's here on a Scrub Club visit at MUSC. The club is open to all pediatric patients and their families who are interested in a preoperative tour.

"What should we call him then?"

Elizabeth cocks her head to the side, ponders the monkey's face, and declares, "Tommy."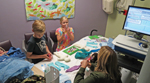 The first part of the Scrub Club tour allows patients to visit the preoperative area. Ellis and Elizabeth Brown check out various items Elizabeth might see when she comes in for her surgery. Senior child life specialist Jennifer Redfern, along with Tommy the monkey, help answer questions they have. Watch a Scrub Club video at http://bit.ly/MUSC_Scrub_Club.

Redfern nods. "The monkey's name will be Tommy."

In front of Tommy is a case stocked with lip balms in a rainbow of colors. Redfern tells Elizabeth to pick her favorite flavor. Taking the winning strawberry flavor, Redfern rubs the balm in the mask, explaining this will go over Elizabeth's face when she has surgery, and it will help it to smell better than the plastic.

Elizabeth rubs it into the mask and takes a sniff and smiles, agreeing that it smells much better now.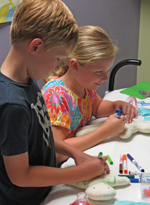 Ellis and Elizabeth Brown color and name their medical dolls. Right, they check out the toy cabinet. Redfern likes to give children an idea of the fun activities available while in the hospital.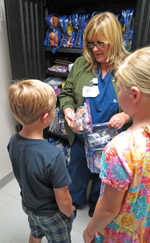 As a child life specialist, Redfern knows this is a critical part of preparing Elizabeth for her procedure. "It gives a choice. We don't get a lot of choices in the hospital so it gives them more control."

The two continue the discussion of what her surgery will entail as Elizabeth and her younger brother Ellis get hospital fabric dolls to decorate. Elizabeth decides she'll take it with her on the rest of her tour.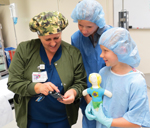 Redfern pulls up photos on her phone of Elizabeth and her mother, Julia Brown, in their scrub attire. A game of I Spy in the OR helps Elizabeth feel more comfortable in the room and allowed Redfern to answer questions about the operating room.

Elizabeth and her mother, Julia, suit up in scrub gear to visit the operating room, where Redfern answers questions about what the various instruments and equipment are used for, and then it's time for surgery "I Spy." They all take turns finding items, with anxiety draining from Elizabeth with each round of play.
After seeing the operating area, Ellis and Elizabeth Brown go to the waiting room, where their parents will wait during her procedure. Redfern explains a pain chart to Elizabeth.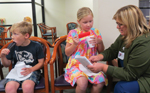 Then it's time to visit the waiting room where Julia and family will be waiting to hear how Elizabeth's surgery is going. Redfern explains the procedures board and gets popsicles for the children. As Elizabeth eats her treat, Redfern shows her faces that indicate various levels of pain. Elizabeth will be asked her pain levels after surgery and this will help her understand the process before she undergoes surgery.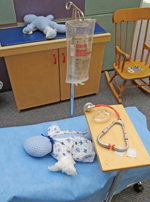 Redfern uses medical play to help children be more comfortable in the hospital. Right photo: Tommy the monkey with an IV.

Her mother looks over the room, adjusting that this is where she'll have to wait for news of her daughter's surgery. "This has been good. It takes care of some of the unknown," she said of the tour.

Final stops on the tour include going to a hospital room and checking over the menu, where Elizabeth picks out some of her favorite food options, and then going to a giant children's play space called the Child Life Atrium. Elizabeth and Ellis immediately run to the air hockey table and begin checking out other toys.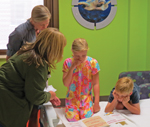 The family checks out a hospital room and picks out their favorite menu items.
Redfern, who has been a child life specialist for 11 years, said she loves her job. "There's nothing better than making a small difference in the life of a child. We take care of the emotional needs of kids. Our goal is to make that experience a positive one."

That means offering developmentally-appropriate information for children and play activities that can help them process what's happening in their lives. It also means figuring out and defusing their fears. Some parents say nothing about an upcoming or ongoing medical procedure, but that can magnify fears. "Nothing is scarier than the imagination of a child. A child can create a very scary story."
Redfern, who is one of 11 child life specialists at MUSC, sees daily how the power of preparation and play helps children to heal. Research shows it speeds recovery and gives them a positive association with the medical center where they'll receive their care. "One bad experience can change forever the trust a child has in the medical staff."

Often she sees children who are overwhelmed by the medical environment and the unknown. They have so few choices and control in their life. That's where she can make a big impact. She gives children choices every chance she gets and focuses on putting the focus back on play, even though they have to be in the hospital.

"There's nothing better than knowing we've made a difference in how they see the medical staff in general," she said. "It's really about empowering them. It's helping the family empower themselves."