by Cindy Abole
Public Relations
Lowcountry children suffering from a life-threatening situation can be assured of receiving the best trauma care, according to John Sanders, Children's Hospital administrator.

Last spring, the MUSC Children's Hospital sought an additional designation as a Level 1 S.C. Department of Health & Environmental Control (DHEC) Pediatric Trauma Center in addition to already obtaining an American College of Surgeons Level 1 trauma status as awarded to MUSC's adult and pediatric hospitals in 2011. The Children's Hospital was designated from a site visit of an independent review council coordinated by DHEC and the S.C. Trauma Advisory Council. The three-year designation assures parents that all pediatric patients will receive the highest level of pediatric trauma care and support at any time. It places the Children's Hospital in elite company of just a handful of similar institutions such as the Children's Hospital of Pittsburgh; LaBonheur Children's Hospital, Memphis; Rady Children's Hospital, San Diego; and Children's at Egleston Hospital, Atlanta.

It also recognizes a statewide system of excellence and commitment from the pediatric trauma team, the Pediatric Emergency Department staff, Department of Pediatrics, including pre-hospital, operating, intensive care units, radiology, respiratory therapy, rehabilitation and other areas needed to support patients transported to MUSC. The distinction as a Level 1 Trauma center is one of the highest levels that the adult and pediatric programs can achieve for commitment, readiness, patient care and performance improvement.

This achievement was the culmination of a two-year, voluntary process that began from a staff whose aim was to provide world-class, collaborative health care to patients, Sanders said.

The effort was supported by board-certified pediatric surgeons, pediatric emergency physicians, pediatric intensivists, pediatricians, nurses, respiratory therapists, technicians and child life specialists.

On the local front, the endeavor was led by Christian Streck, M.D., and Melanie Ann Stroud, R.N., of the pediatric trauma center and pediatric emergency medicine teams.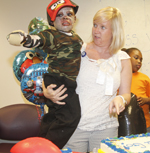 Pediatric burn nurse Ryan Curry offers Tez Gordon a slice of his cake celebrating his discharge from the Children's Hospital. Tez was badly burned in a North Charleston apartment fire in February. He was released in May.

Their work focused on the delivery of quality care for children of all ages. Streck, who is pediatric trauma medical director and assistant professor of surgery, Division of Pediatric Surgery in the Department of Surgery, was inspired to lead this effort after seeing a need for streamlining services and programs throughout the hospital. It wasn't long before Streck and Stroud, who is pediatric trauma program manager and pediatrics-education clinical resource coordinator, approached Children's Hospital leadership to gain their support and map out a plan for success.

"This was an opportunity for MUSC Children's Hospital to lead the way in meeting and setting a standard and raising the bar as it relates to delivering quality medical care," said Streck.

Sanders said the effort would reemphasize the hospital's goal for providing patients and families with full-service care.

The challenge wasn't unfamiliar to Streck, who came to MUSC in 2008. Streck had worked at LeBonheur Children's Hospital in Memphis where he completed his pediatric surgery fellowship training and earlier, a two-year research fellowship in pediatric surgical oncology at St. Jude's Children's Research Hospital.

Rita M. Ryan, M.D., Department of Pediatrics chair, has supported the effort since her arrival in 2011 and more than halfway through their accreditation process.

"This accreditation truly improves the care of children. It is not an accident that we are leading this initiative in the state. We feel that our patients who suffer trauma should be given the highest quality of care, for children and adults. Doing this in concert with the adult trauma team was critical. The goal was to organize standards and establish protocols for care, based on evidence-based guidelines, for pediatric injuries and other trauma. Chris Streck and Melanie Stroud did all the work, and they should get the credit."

According to Streck, more children in the U.S. die due to injury than all causes combined. Of the 23,000 patients seen at the Pediatric Emergency Room, about 300 are treated for serious injuries including burns, motor vehicle crashes, falls, pedestrian and bicycle injuries. Caring for injured children requires a special, comprehensive and inclusive approach.

Today, both injuries and burns account for about half of the morbidity and mortality in the pediatric population. With that said, the hospital's goal centered on raising the standard of care for pediatric patients. Streck emphasized differences in the care and treatment of an infant or child versus an adult, especially in a medical emergency or trauma situation. There are size and proportional differences of a child's head, neck and bones, which are generally softer and more pliable. Because of a child's size and weight, there are differences in medication dosages and challenges for staff to provide intravenous access and intubation.

"These unique differences require the expertise of pediatric specialists to follow specific pediatric guidelines that can direct care. Our goal is to see that every child admitted as a trauma patient is evaluated thoroughly and receives the best level of care and strategies for prevention," Streck said.

A priority, according to Streck and Stroud, was to improve systems and develop appropriate plans of care, demonstrate educational processes, initiate trauma research, provide injury prevention activities that focus on risk areas for children such as motor vehicle and water safety. The team works with the Pediatric Emergency Medicine Division and team of board certified pediatric emergency medicine physicians, residents and fellows, nurse practitioners, medical students and teams. W. Scott Russell, M.D., Pediatric Emergency Medicine medical director, also was an important leader in the trauma certification process.

Last July, Stroud and the Pediatric Trauma team worked with statewide groups to approve Chandler's Law to decrease the state's number of all-terrain vehicle-related injuries among children. Stroud, working with Children's Hospital Injury Prevention and Safe Kids coordinator Maudra Rogers, helped organize the Lowcountry's 5th Annual Bike Rodeo and Safety Fair to teach bike safety, provide safety information and distribute more than 400 bicycle helmets to children.

In the trauma research area, Streck and Russell worked to explore radiation safety and defining safe levels for children during a pediatric trauma evaluation. Their findings led to recommendations to reduce the number of unnecessary tests or scans. The work was published in the Journal of Trauma.