by Cindy Abole
Public Relations

A recent $5.8 million federal grant from the National Institutes of Health opens the door for multidisciplinary clinical research in arthritis, musculoskeletal disorders and skin diseases. It also reestablishes a Multidisciplinary Clinical Research Center (MCRC) to study these diseases especially in minority populations.

The grant provides more than $1.8 million of indirect costs for the next five years as awarded by NIH/National Institute of Arthritis and Musculoskeletal and Skin Diseases (NIAMS).

Rick Silver, M.D., said to launch a grant of this size and win approval required the institutional commitment from MUSC leadership. Support came from the Department of Medicine, College of Medicine (COM), the South Carolina Clinical and Translational Research Institute and the Provost's Office. They also are committed to provide additional funding of $200,000 per year to support young investigators in developing translational pilot projects in these same areas.

"This was a remarkable, collaborative effort among many people," Silver said, describing the complexity of submitting the grant. "Each project within this grant had to shine and be outstanding. If one project was less than that, it would sink the entire grant proposal. Strong institutional support was a key factor in our success."

The award reconnects MUSC to an exclusive network of academic research institutions designated as MCRCs. The MCRC was established to promote interdisciplinary integration between faculty, strengthen the framework among African-American patients in the areas of rheumatology, biostatistics and health disparities research and support new projects.

COM Dean Etta D. Pisano, M.D., praised faculty for their work and collaborative spirit in this achievement.
"This is an important award for MUSC, and the faculty involved are to be commended for their efforts in putting together such a strong proposal. Our rich patient population and well established track record of clinical investigation have placed MUSC in an excellent position for further development of a strong portfolio of both clinical and translational research in rheumatic diseases. The pilot funding for young investigators is a critical piece of this endeavor."

The initial request for funding for pilot projects will be issued in September. Historically, MUSC has been a recipient of previous NIH/NIAMS funding dating back to the 1970s. In the 1980s, the Division of Rheumatology and Immunology was awarded a similar grant called a Multipurpose Arthritis Center award to conduct rheumatic disease research. MCRCs were established in the early 2000s and the university received a grant from 2003 to 2008. Funding for new or renewed centers was temporarily suspended in 2008. It wasn't until 2011 that NIAMS reinstituted the program for these types of centers. Today, there are only six MCRCs funded nationally, and MUSC is the only new one to be funded.

The new center is organized under three cores — methodology, patient resource and administrative; and two translational clinical research projects focusing on scleroderma and lupus. The latest research indicates that both diseases have profound public health effects on minorities, especially among African-American communities.
For Project 1, the investigation team, led by Silver and Galina Bogatkevich, M.D., Ph.D., Division of Rheumatology and Immunology, will evaluate the genetic changes in African-American scleroderma patients to determine why their condition often leads to pulmonary fibrosis, a permanent condition when lung tissue continues to be damaged or scarred resulting in progressive shortness of breath, and fibrotic lung disease. Complications impact African-Americans at a younger age versus their Caucasian counterparts.

According to Silver, scleroderma and lupus share common ground as both are autoimmune, connective tissue diseases.

"Both projects are expected to expand and explore current research in these areas. The scleroderma project will be the first of its kind to study and explore its severity and rapid progression to lung disease among this minority population," he said.

Project 2 addresses lupus and its increasing prevalence in African-American women. Co-principal investigators Gary S. Gilkeson, M.D., and Diane L. Kamen, M.D., Division of Rheumatology and Immunology, will continue their research of Systemic Lupus Erythematosus within African-American patients. Specifically, their team will study and identify genetic and environmental links and differences between the Sea Island African-American Gullah population of South Carolina and their ancestral links with people from Sierra Leone in West Africa.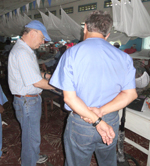 Dr. Gary Gilkeson, right, principal investigator of the Multidisciplinary Clinical Research Center, joins Dr. Darrius Maggi, founder of the West Africa Fistula Foundation, during a visit to a hospital in Bo, Sierra Leone.

The MCRC's facilities support several objectives such as fostering biomedical research and development at both the fundamental and clinical levels; initiating and expanding community education, screening, and counseling programs; and educating medical and allied health professionals concerning the problems of diagnosis and treatment of a specific disease.

Both clinical research projects and future pilot projects will have the chance to work with a methodology core led by Paul J. Nietert, Ph.D., professor of Department of Biostatics in the Division of Biostatistics & Epidemiology. In 2003, Nietert and others on his team, including biostatistician Stephanie Shaftman, helped support the institution's previous MCRC-funded grant within the Division of Rheumatology and Immunology.

Nietert, now the methodology core's principal investigator, has assembled a team of biostatistics investigators that will provide methodological and biostatistical support for MCRC investigators by helping them develop study designs, review research protocols and other activities that can support large trials and small pilot projects.

Beth Wolf, Ph.D., and Viswanathan Ramakrishnan, Ph.D., will be investigating new strategies for studying gene-environnment interactions. Paula Ramos, Ph.D., an expert in molecular genetics and bioinformatics, also is an investigator in the methodology core. The team also is skilled with data management and can help foster collaborations that ensure that optimal clinical research methodologies are being utilized.

Nietert is excited to work again with rheumatology investigators and other campus experts. "I get to continue my work with people that I have worked with for many years. It's a win-win situation where everyone benefits. We're helping researchers on their studies through our biostatistical expertise while we continue to work on our own projects. It's truly a collaborative effort."
Multidisciplinary Clinical Research Center
Division of Rheumatology and Immunology: Gary S. Gilkeson, M.D. (principal investigator); Diane Kamen, M.D.; Rick Silver, M.D., Edwin Smith, M.D.; Galina Bogatkevich, M.D., Ph.D., and Jim Oates, M.D., and Department of Biostatistics, Bioinformatics & Epidemiology: Paul J. Nietert, Ph.D. Acknowledgements to Peggy Schachte and Anne Donaldson