MUSC's annual faculty convocation kicked off a new academic year Aug. 21 by honoring 15 faculty members representing the university's threefold mission.

College of Graduate Studies Dean Perry Halushka, M.D., Ph.D., delivered the keynote address on the event's theme, "From Discovery to Improved Therapeutics: The Role of Entrepreneuralism."

Following his address, the university recognized faculty for achievements in academics, research and clinical care. Faculty members Rick Silver, M.D., Robert Stuart, M.D., and Caroline Jenkins, DrPH, were cited for their distinguished service to MUSC.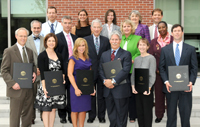 Members of the MUSC faculty are recognized during the Aug. 21 convocation.
Distinguished Faculty Service
Carolyn Jenkins, DrPH
Holder of the Ann Darlington Edwards Endowed Chair and Professor of Nursing, Jenkins has devoted her career to improving the health of communities throughout South Carolina related to diabetes and its complications, especially in underserved African-American communities. Her work has taken her to communities around South Carolina and the Lowcountry, and as far away as Africa, where she helped reduce the incidence of diabetes and established clean water systems. She has been a leader in creating effective partnerships between academia and communities, creating jobs for community health workers in addition to improving health. She is certified by the American Association of Diabetes Educators and is a fellow in the American Academy of Nursing, a member of Sigma Theta Tau, and a leader in the state-legislated Diabetes Initiative of South Carolina.
Richard Silver, M.D.
A Distinguished University Professor in the fields of Rheumatology, General Pediatrics and Graduate Studies, Silver has been recognized as an excellent clinician-administrator, as demonstrated by U.S. News & World Report's continuous ranking of the Division of Rheumatology and Immunology, which he has led since 1995, as one of the best in the nation. For more than 25 years, he was the sole pediatric rheumatologist in South Carolina. In addition to his clinical and administrative obligations, he is a highly respected researcher, having brought in nearly $12 million in grants and producing more than 150 publications. Silver also was the first clinician to treat scleroderma lung patients with Cytoxan, now considered the standard therapy for this disease. As further demonstration of his service to MUSC, he has served as interim director of the Department of Medicine since March 2011.
Robert Stuart, M.D.
Much of the clinical, research and educational activity of the Hollings Cancer Center had its genesis from Stuart, MUSC's founding director of its Hematology/Oncology Division. He played a major role in the facility's design and wrote the proposal for the initial funding. A professor of Medicine and Graduate Studies, Stuart performed South Carolina's first bone marrow transplant in 1987, a tremendous undertaking as it also meant assembling a highly trained clinical team maintaining strict protocols for these extremely vulnerable patients. As MUSC's only oncologist, he personally had to follow these patients around the clock. In 1997, he headed the oncology department at the King Faisal Specialist Hospital & Research Centre in Riyadh, Saudi Arabia. He returned to MUSC in 2001.

Developing Scholar
Joe Blumer, Ph.D.
An assistant professor with faculty appointments in the colleges of Dental Medicine, Graduate Studies and Medicine, Blumer is widely hailed as a "rising star" in biomedical research, specifically in the signal transduction field. His research has long focused on accessory proteins that provide alternative modes of input and regulation in signal transduction pathways. These include receptor-independent activators of G-protein signaling (AGS) proteins, many of which play surprising roles in signal transmission. He earned his doctorate in microbiology and molecular genetics from Emory University School of Medicine. He completed a research fellowship at Louisiana State University Health Sciences Center in New Orleans under current MUSC Associate Provost for Research Stephen Lanier, Ph.D., a member of the LSU faculty at the time. Following the massive destruction wrought by Hurricane Katrina in 2005, Blumer played a key role in the recovery of programs at the LSU Health Sciences Center.

Leah Siskind, Ph.D.
An assistant professor with the South Carolina College of Pharmacy and MUSC's Department of Medicine, Siskind's main research interests center on ceramide, a sphingolipid that is known to be involved in the initiation of kidney cell death. The goal of Siskind's research is to develop novel therapeutic approaches to both increase the effectiveness of medications used to treat the elderly and prevent the loss of cell mass during kidney disease or injury. Even though her career is in its early stages, Siskind has been remarkably productive, with eight prominent first-author publications, four of them in the prestigious Journal of Biological Chemistry. Her proficiency also has resulted in several awards and honors, including being invited to serve as an Academic Board member on the journal PLoS One and an invited speaker at a 2010 Gordon Research Conference, 2009 Charleston Conference on Mitochondrial Physiology and Pathobiology, attendance at the 2007 Barshop Aging Course, and recipient of the 2007 Abney Foundation Scholarship.
Ida Spruill, Ph.D., R.N.
Spruill, an assistant professor in the colleges of Nursing and Graduate Studies, has devoted a major portion of her professional life to studying the health and well being of African-Americans along South Carolina's coast. She served as co-investigator and nurse manager of the acclaimed Project SuGAR, a decade-long MUSC community-based research study focusing on Gullah families affected by Type 2 diabetes. "She is considered a pioneer in advocating for the health of (the) medically under-served," said Dr. Linda Bolton, vice president for nursing at Cedars-Sinai Medical Center in Los Angeles. Spruill's most recent honors include the 2011 Trailblazer Award from the National Black Nurses Association, College of Nursing 2011 Outstanding Alumnus Award and a Fellow in the Academy of Nursing.

Outstanding Clinician
Andrew Atz, M.D.
Long recognized for its children's patient care services, MUSC continued to build on this strength with the arrival of Atz in 1998 from Children's Hospital in Boston. As director of MUSC's Pediatric Cardiac Intensive Care Unit, Atz has led the PCICU to a Top 20 national ranking, coming in 17th in the latest U.S. News & World Report survey. Within the first five years after his arrival, Atz and his team reduced surgical mortality by 50 percent. In 2003, Atz took on more obligations, becoming the associate chief of pediatric cardiology, supervising all aspects of the program, leading clinical conferences and communicating with referring physicians within the region. These and other functions have contributed to the program's outstanding surgical survival rate of 99 percent, placing it among the leading institutions nationwide.

Joshua Smith, Ph.D.
Prior to Smith's assuming the position of clinical director, the Center for Drug and Alcohol Programs had a reputation as an excellent operation that took months to get into, a major problem for patients with addiction issues. Smith minimized that obstacle by establishing a walk-in clinic five days a week and also set up evening hours, making the program much more accessible. Smith also is credited with the development of inpatient programs under the Centralized Inpatient Programming Service, bringing together teams of professionals from many disciplines to help patients learn how to cope with their respective problems. "He is an exceptional blend of both clinician and administrator," said colleague Steven LaRowe, Ph.D., "and is one of the very best in our department."

Dannah Wray, M.D.
An associate professor of internal medicine and pediatrics, Wray has been a leading authority in MUSC's Division of Infectious Diseases and is clinical director of the Infectious Disease Clinic. Until three years ago, Wray was the only member of the infectious disease faculty with a major focus on infections in organ transplant patients. As such, he made major contributions to MUSC's organ transplant operation and helped that program to flourish. He did all this while maintaining a heavy adult and pediatric patient load, working nights and weekends with little or no backup. Today, more clinicians with expertise in transplants and infectious diseases have joined the faculty, allowing Wray to diversify and expand services in the organ transplant area. Transplant patients, however, make up only a portion of the caseload for Wray, who has been named one of the Best Doctors in America for more than seven years; children and HIV patients – South Carolina ranks ninth nationally in AIDS cases – make up the rest.
Teaching Excellence
Profiles of the four honorees, Kelly Ragucci, PharmD, Educator-Lecturer; Tom Smith, Ph.D., Educator-Mentor: Academic/Scholarship; Patricia Coker-Bolt, Ph.D., Educator-Mentor: Clinical-Professional; and Gretchen Seif, DPT, Developing Teacher, were published in the May 18 issue of The Catalyst and can be read at http://www.musc.edu/catalyst/archive/2012/co5-18foundation.html.